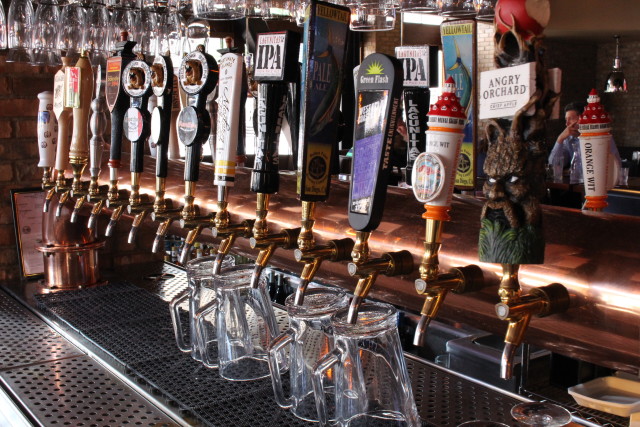 Yes, San Diego is home to more than 100 awesome breweries, and each has its own tasting room (some have two or three!). But, San Diego is a big county and, though many breweries are somewhat "grouped" in geographical areas, the majority of them are a 20-40 minute drive from downtown. So, how do you sample some of America's finest beer from America's Finest City if you're only going to be downtown? It's simple: There are a slew of great bars to choose from, if you know what to look for. And they're all within a 20-block radius of one another, which means, you can easily sample a few different places while you stroll around.
You can find San Diego beer on almost every menu in the city at this point, which is great, but the majority of downtown restaurants and bars are still pushing the mass-produced stuff harder than the craft stuff. The eight places on the list below are notable for the depth and breadth of their craft beer taps and bottle lists, most of which often include at least 50% San Diego beers (though these things rotate and change on a sometimes daily basis).
Just for fun, I've also noted the places that do some interesting craft beer cocktails. These offerings come in especially handy when craft beer lovers are out and about with craft-beer newbies…they offer a "kinder gentler" way to start appreciating the wonderful array of flavors available in great craft beer.
Here's the list of my recommendations, starting on Beech Street (in Little Italy) and working south and east toward Island:
1. Craft & Commerce
Spacious and welcoming, with seating options both indoors and out, this craft-and-cocktail-centric restaurant is easy to settle into. In addition to its full menu of tasty and creative comfort food, Craft & Commerce has about two dozen taps of well-chosen craft beers. They also offer about five different craft beer cocktails, including a delicious IPA cocktail (IPA, grapefruit-infused asperol, orgeat, and lemon) and the Pony Boy (Ballast Point's Wahoo Wheat with cynar, lemon, and honey).
Where: 675 W. Beech St. San Diego, CA 92101
> Find out more about Craft & Commerce
2. Downtown Johnny Brown's
Feel like going on a little treasure hunt? You can't see DTJB's from the street (it's tucked inside the courtyard that houses the Civic Center) but this classic San Diego beer bar is worth seeking out. The ambience is no-frills and the food is basic pub fare, but the tap list (about 30 handles) and selection have made it a downtown beer mecca. Also to its credit: DTJB's was one of the first bars downtown to actively embrace, promote, and support the San Diego craft beer movement – so, big props to them.
Where: 1220 3rd Ave, San Diego, CA 92101
> Find out more about Downtown Johnny Brown's
3. The Beer Co.
Here's a place where you can taste a small lineup of beers brewed on premises in addition to a nice array of other craft handles. A large bar dominates the somewhat dark but nicely done space, which also has tables and booth seating. The 20+ tap handles offer good variety and tend to focus on easy drinking selections that pair well with the food on the full bar menu.
Where: 602 Broadway, San Diego, CA 92101
4. Quad Alehouse
One of the newer (and nicer) beer bars downtown, this spacious and tastefully designed space offers big windows, more light, and a much nicer view than most of its Fifth Avenue neighbors. Being up high, on the third floor, is a nice option, and it's fun to have more than 28 taps to choose from while you look out at the bustling Gaslamp below.
Where: 868 Fifth Avenue, 3rd Floor, San Diego, CA 92101
> Find out more about Quad Alehouse
5. The Tipsy Crow
Head south on Fifth Avenue from Quad Ale House and, within a minute, you'll be standing in front of The Tipsy Crow. This well-established bar has been offering patrons the "classic" pub experience for many years: the ground floor offers low light, dark wood booths, and small darkened spaces, while the second floor offers a more comfortable lounge-inspired setting. The tap list is a bit lean, but the bottle list, with about 80 selections, makes up for it.
Where: 770 Fifth Avenue, San Diego, CA 92101
> Find out more about The Tipsy Crow
6. The Hopping Pig
One more block south on Fifth brings you to The Hopping Pig, which has more in common with the Tipsy Crow than Quad Ale House. Those who crave the ambience of their favorite dive bar will find this space comforting, and their tap list, which comprises more than 30 handles, will provide more than enough choice to make your visit a tasty one.
Where: 748 Fifth Avenue, San Diego, CA 92101
> Find out more about The Hopping Pig
7. Neighborhood
This smallish corner bar beckons those who appreciate the eclectic approach to watering holes. Filled with all sorts of curious objects and images, including mounted stuffed animals, rubber dolls, and religious iconography, Neighborhood also provides an eclectic mix of beverages. Their excellent lineup of 28 taps provides good breadth and depth, but the full bar also offers a deep list of bourbons and whiskeys, including their own homemade fireball hooch, which is well worth a try.
Where: 777 G St, San Diego, CA 92101
> Find out more about Neighborhood
8. Stella Public House
Seekers of the light will de-light in the space that makes up Stella Public House. Much of the pub/bar opens to the outside and overlooks the Coronado Bridge and a large span of town that backs up to Petco and the new library. 30 taps, including two hi-tech nitro taps, provide an excellent selection of well-chosen beers, about half of which on average are local. Stella also had one of the more developed menus of craft beer cocktails, which includes a MAI IPA (Mai Tai mix with IPA and lemon), a Fizzy Gin (Belgian beer with Tanquerey, lemon, and agave), and a Breakfast Beer (Stoli Raz, Coffee, and Belching Beaver Peanut Butter Stout).
Where: 1429 Island Ave, San Diego, CA 92101
> Find out more about Stella Public House