Like the ending to a great book or movie, the 18th hole of a golf course should offer an experience that's both satisfying and memorable.
Few things in golf beat a walk-off birdie, so consider this a short bucket list of places you'd like be lucky to score one in San Diego. The following is a list of some of the best finishing holes San Diego golf courses have to offer:
1. Rancho Bernardo Inn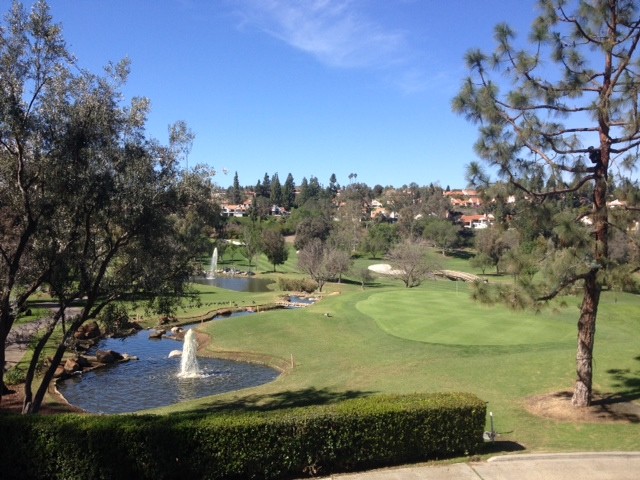 William Bell, the designer of Torrey Pines and many other public courses in San Diego, did some of his best work on No. 18 at Rancho Bernardo Inn, a hole that's as scenic as it is strategic.
This closing par 5 begins with a decision off the tee: Do you try to drive the culvert crossing the fairway at around 250 yards or do you lay up? From there, it's all about positioning to this uphill hole protected by ponds and a stream. That's a lot of watery waters for things to go wrong trying to reach this narrow, triple-tiered green. But whether you make birdie or bogey, the setting, which includes two fountains, makes the hole and experience unforgettable.
> Find out more about the Rancho Bernardo Inn
2. Aviara Golf Club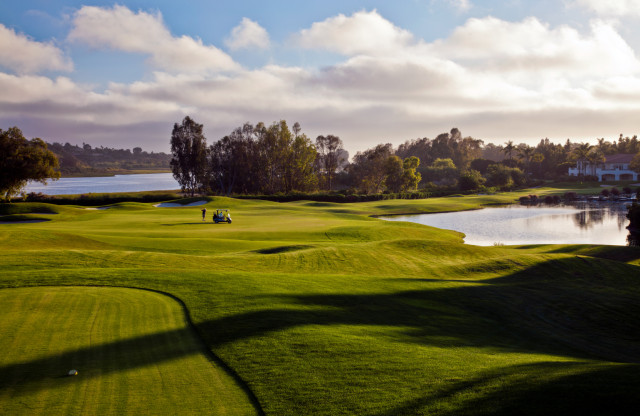 Possibly the most beautiful finishing hole in San Diego is also its most difficult. This dogleg right par 4 wraps around a lake with a magnificent waterfall and offers a gorgeous view of Batiquitos Lagoon on the left. The lake is a popular destination for tee shots – and second shots, as finding the fairway is no guarantee of anything. The second shot, while played to a sizeable green, is deceivingly difficult. The approach is played into a Pacific Ocean breeze that can push your ball right into the water or out-of-bounds left. Par feels like a birdie here. The pros on the LPGA Tour are even tested by this one.
> Find out more about Aviara Golf
3. Maderas Golf Club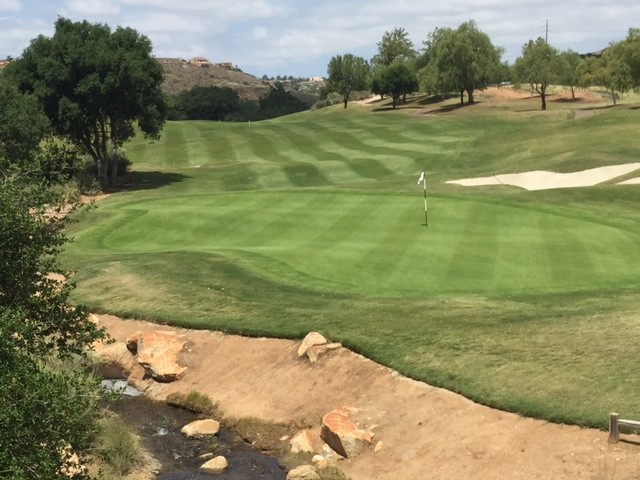 This straight away par 5 starts with an elevated tee shot over a ravine to a fairway where a majestic giant oak marks the right side. Aim for the oak and then pour all you've got into your second shot on this long finishing hole. The green is situated in front of the Maderas clubhouse, which has the look of an Italian villa. You can putt out and then retire to the patio and enjoy a great view of the hole you just played.
> Find out more about Maderas Golf Club
4. Torrey Pines (South Course)
Design-wise, this flat, straightaway closing par 5 may seem fairly ordinary, but what's happened here makes it extraordinary. As the finishing hole for the PGA Tour's Farmers Insurance Open, it gets the most TV time of any hole in San Diego. But the lore of No. 18 really ties back to 2008 and the iconic U.S. Open. This is where Tiger Woods trickled in a tricky 12-foot birdie to force the playoff with Rocco Mediate that made that Open legendary and turned Torrey into hallowed ground in golf. Here's your chance to recreate history.
> Find out more about Torrey Pines Golf Course
18th Hole Honorable Mentions