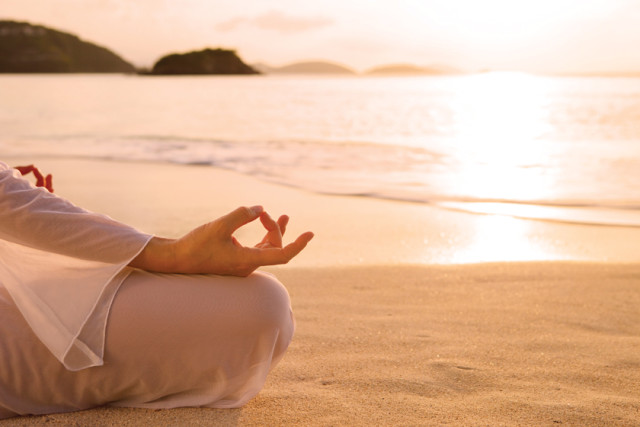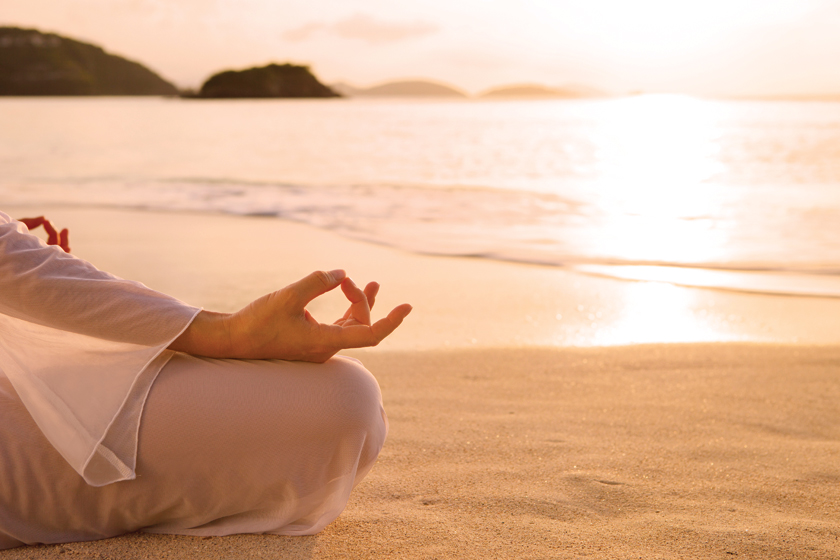 With life's hectic pace and the amount of stress most humans face, quieting the mind and finding a little peace can be a challenge these days. While meditation has been practiced for thousands of years, there's been a recent surge of interest from a wider audience. Luminaries like Oprah haven been spreading the good word about its benefits; health conscious actors like Angelina Jolie and Gwyneth Paltrow practice it, and spiritual advisors such as His Holiness the Dalai Lama and Deepak Chopra have long held the belief that that meditation is good for the spirit and humanity as a whole. But now, present-day scientific studies and evidence-based research are pointing to specific long-term health benefits of meditation.
A Harvard-affiliated study in 2011 showed that measurable changes in the brain associated with stress, empathy, memory and sense of self were seen in participants of a mindfulness meditation program. In North County San Diego, The Chopra Center has been working with local Scripps scientists to study the positive effects of meditation by measuring heart rates and brain waves of participants in meditation workshops. Dr. Chopra has also partnered with Nobel Prize winner Elizabeth Blackburn to further explore the effects of meditation on telomeres, as studies show that meditation can increase telomeres, which can slow the biological clock and enhance longevity. Meditation can also counteract the negative results of stress. It can slow the heart rate, lower blood pressure and improve the immune system.
So what are you waiting for?
The Chopra Center
Throughout San Diego there are several places to learn how to meditate or continue your practice. The Chopra Center offers a free introductory meditation class every Friday from 2:00 to 3:00 PM, along with several weekly free group meditations. For those that want to dig a little deeper there are private one-on-one sessions and three-day meditation workshops where you receive a personal mantra for your practice.
Where: 2013 Costa Del Mar, Carlsbad, CA 92009
> Find out more about The Chopra Center
Pacific Pearl La Jolla
Dr. Guarneri, a cardiologist and owner of an integrative health and wellness center, believes that "Meditation decreases the risk of a cardiovascular event by 48 percent." This would explain why group meditation classes are offered at her center.
Where: 6919 La Jolla Blvd, La Jolla, CA 92037
> Find out more about the Pacific Pearl La Jolla
Sonima Wellness Center Closed
At the Sonima Wellness Center in Encinitas, daily guided meditation classes are a great way to develop one's practice in the welcoming company of fellow meditators. After, organic fresh pressed juices, super food smoothies and gourmet vegan cuisine await in the center's café.
Where: 575 S Coast Highway 101, Encinitas, CA 92024
> Find out more about the Sonima Wellness Center
Self Realization Fellowship Temple
The lovely cliff-side gardens at the Self Realization Fellowship Temple in Encinitas have many quiet nooks with benches tucked throughout the grounds, ideal for some quiet reflection in an ocean breeze. The temple is part of the organization founded by Paramahansa Yogananda in 1920 to teach the scientific techniques of meditation. At both the temple and nearby chapel, anyone is welcome to join their group meditation gatherings each week.
Where: 939 2nd St, Encinitas, CA 92024
> Find out more about the Self Realization Fellowship Temple
Escondido Center of Self-Realization Fellowship
The public is also invited to join the group meditation services at the Self Realization Temple in Escondido. Basic instruction in technique is provided for beginners and the 45-minute sessions occur every day except for Tuesday.
Where: 1299 Scenic Drive, Escondido CA 92029
> Find out more about the Escondido Center of Self-Realization Fellowship
Deer Park Monastery
Another tranquil spot in Escondido, the Deer Park Monastery is a 400-acre sanctuary in the mountains, established by Zen Master Thich Nhat Hanh, as a place to share the practice of mindful living. A community of monastic and lay practitioners live onsite, but anyone, with or without a meditation background, can enjoy this natural haven on specified calendar dates. Their Day of Mindfulness experience includes outdoor walking meditations, Dharma talks, meals in silence and a chance to explore the gardens and nature trails. Deer Park Monastery also welcomes children on certain dates for inspiring games and activities including art, meditation, nature walks, and singing.
Where: 2499 Melru Ln, Escondido, CA 92026
> Find out more about Deer Park Monastery
Dr. Tim Brieske from The Chopra Center says, "People should meditate regularly if they want to experience a life that is more conscious, authentic, and fully aware – and less stressful. When we move into restful awareness through the practice of meditation, our body responds to the best of its ability with normalized heart rate, blood pressure, respiratory rate, and blood sugar. We release fewer anxiety-producing stress hormones, and immune function tends to normalize. These actions tend to optimize mental and physical health."