San Diego Craft Beer – Check! Delicious Food – Check! Beautiful Views of San Diego from the Water – Check! These are just a few of the highlights of Flagship Cruises & Events' Hops on the Harbor.
The Craft Beer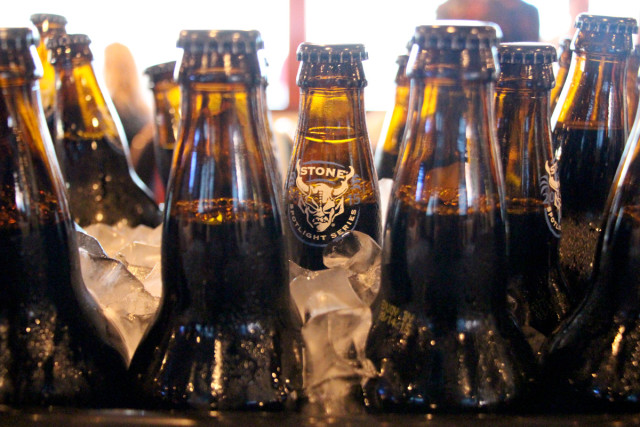 It's called Hops on the Harbor for a reason!
Each month, Flagship features a local brewery's line up pouring everything from famous San Diego style IPAs to pale ales to dark and delicious Stouts. During my cruise, we sipped on new (Ruination IIPA 2.0) and classic offerings from Stone Brewing Co. while also having the chance to talk craft beer shop with one of the brewers.
Ballast Point will be on tap in July and I believe it is required by law for you to try the Sculpin IPA before leaving San Diego! In August, Pizza Port will come aboard and hopefully be pouring the delicous Chronic Ale (trust me on this one).
For those indulging their craft beer friend/loved one(s), there is a full bar onboard that will happily mix up a cocktail or pour a glass of wine.
The Food
Just like its grape-derived sibling, the nuances of craft beer are best experienced when paired with delectable dishes. Flagship's chefs know this and have prepared monthly menus that reflect the tastes and personalities of each brewery.
On the Stone cruise, I devoured amazing pulled pork sandwiches with an Imperial Mutt Brown Ale and rich chocolaty desserts chased by Stone's Imperial Russian Stout.
For the Ballast Point cruises in July, expect lighter fair and fresh fish pairings like pan seared halibut with citrus buerre blanc and grapefruit marmalade paired with a Grapefruit Sculpin IPA or grilled chicken with charred peach barbeque sauce paired with a BP Pale Ale.
Make sure you check Flagship's website spielautomaten and view the menu before you hop aboard.
The Cruise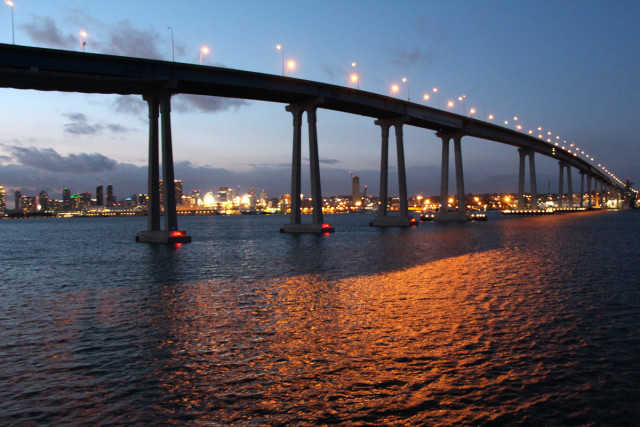 The whole Hops on the Harbor experience is made complete with amazing views of San Diego from the water.
Once aboard, grab beer and climb the stairs to the upper deck. Take a seat and wave goodbye to the USS Midway as the California Spirit sets sail toward the Big Bay. From there, you are treated to striking views of Point Loma, picturesque Coronado, the Coronado Bay Bridge, the San Diego skyline, and a beautiful sunset!
Make sure your camera's battery is charged because you will be snapping a lot of photos!
If you get a little chilly and want to warm up, head back inside to dance the night away with live music…and maybe another beer! Or if you're like me and have little to no rhthym, find one of the comfortable over-stuffed chairs and relax as the California Spirit returns to San Diego's Embarcadero.
Hops on the Harbor Information
Where: 990 N Harbor Dr, San Diego, CA 92101
When: Fridays
Time: 7:00 to 10:00 PM
Cost: Adult – $69.50
> Find out more about Hops on the Harbor