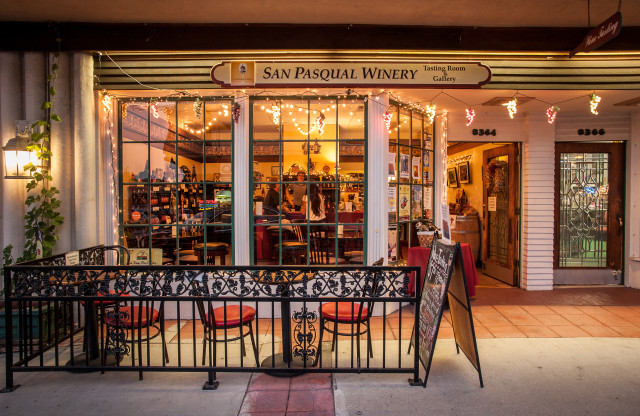 With the Holiday season fast approaching, what better way to start your celebration than a visit to one of San Diego County's family-owned wineries? Many of the local winemakers host Holiday-themed activities at their vineyards, a perfect prelude to the coming seasonal festivities. Here are some suggestions for getting in the spirit while savoring local wines:
Principe di Tricase Winery and Christmas Tree Farm
Where else can you select the perfect Christmas tree while sipping wines made from Italian grape varieties like Nebbiolo and Aglianico? The owners of Ramona's Principe di Tricase Winery also operate the Highland Valley Christmas Tree Farm on the same property. Choose a beautiful Monterey pine or a fragrant cedar from among the 6,000 trees while you enjoy award-winning wines crafted from the four acres of vineyards next door.
Where: 18425 Highland Valley Road, Ramona, CA 92065
When: Beginning the day after Thanksgiving
– Tree farm open Thursday & Friday 3:00 to 5:00 PM and Saturday & Sunday 9:00 to 5:00 PM
– Winery open Saturday & Sunday 12:00 to 5:00 PM
> Find out more about Principe di Tricase Winery and Christmas Tree Farm
Ramona Valley Vineyard Association Holiday Wine Trail
Purchase the $15 Passport for access to special tastings at 15 Ramona Valley wineries, along with a souvenir glass. Each participating winery will offer a special wine and food pairing, bottle purchase discounts and other Holiday merchandise at a discounted rate (charged at each winery).
Participating wineries: La Finquita, Hatfield Creek, Ramona Ranch, Milagro Farm, Mahogany Mountain, Lenora, Turtle Rock Ridge, Pamo Valley, Eagles Nest, Vineyard Grant James, Principe di Tricase, Highland Hills, Hacienda de las Rosas, Poppaea, Hellanback Ranch
When: December 5-6 and December 12-13
Cost: $15-$20
> Find out more about the Holiday Wine Trail
Sierra Roble & Shadow Mountain Wineries Holiday Open House
Take a drive up to the scenic mountains north of Warner Springs to enjoy a wonderful Holiday tasting experience. Enjoy a tasty bowl of posole soup at Shadow Mountain and delicious handmade tamales at neighboring Sierra Roble, paired with a variety of beautifully crafted wines.
Where:
– Sierra Roble Winers – 34810 Hwy 79, Warner Springs, CA 92086
– Shadow Mountain Vineyards & Winery – 34680 Hwy 79, Warner Springs, CA 92086
When: Saturday, December 5
Time: 1:00 to 4:00 PM
> Find out more about the Holiday Open House
Ramona Ranch Winery Wine Crafting
Create your own Holiday ornaments while sipping delightful wines at Ramona Ranch. All classes include materials, instruction, wine and a guaranteed good time.
On Saturday, December 5th, Design Works will be on site for a wine tasting and crafting class. On Sunday, December 13th, Woodcrafter Jeri will lead participants in the creation of their own unique wooden snowman accompanied, of course, by a wine tasting.
Where: 23578 Highway 78, Ramona, CA 92065
When: December 5 & 13, 2015
Reservations: Call Teri at 619.925.5008
> Find out more about the Ramona Ranch Winery
San Pasqual Winery Cork Wreath Making Class
Make your own Holiday cork wreath at this entertaining class held at the charming San Pasqual tasting room in the heart of La Mesa. Class fee includes all materials, instruction and a glass of wine.
Where: La Mesa Village – 8364 La Mesa Blvd., La Mesa, CA 91942
When: December 4 and December 18
Time: 6:00 to 8:30 PM
Cost: $35
> Find out more about the Cork Wreath Making Class