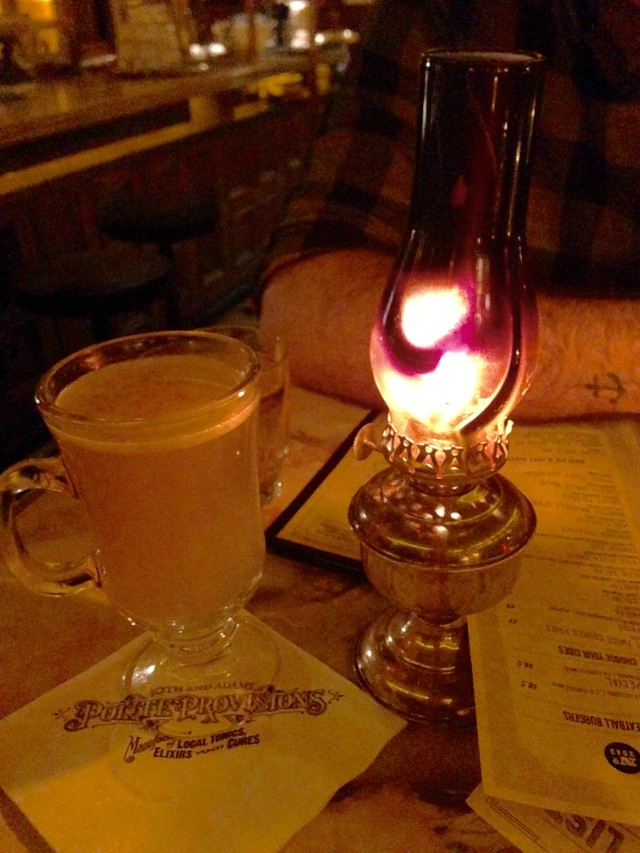 When most people think of holiday weather, they don't think of temperatures in the mid to high 60s…unless of course, you live in San Diego!
We may not have miles of Maple leaves changing colors on the SoCal coast or blankets of fresh snow covering the roads but we do offer some cocktails that'll make you feel all warm and cozy inside, without the need to pull out the old leaf blower.
I've gathered a few places in the mid-city area that have created exceptional cocktails based on recommendations by friends in the bar industry here in San Diego so if you're looking for something that reminds you of cozying up near the fireplace (or beachside bonfires here in San Diego), then take a gander at the following suggestions.

Park & Rec's Tiki Cocktails
Speaking of bonfires, nothing says San Diego winter like a tiki cocktail! I know it's not your average eggnog, don't worry we'll get to those, but it is something you'll want to try while playing corn hole or shuffleboard at Park & Rec, a bar that let's you go experience recess all over again only this time with better tater tots! The Tiki Blinders, duly named after a television drama that is ironically set in prohibition-era London, is made with Irish whiskey, spiced rum, pineapple, lime blood orange liqueur and bitters. It is earthy and sweet with a slightly bitter finish. Lucky for us, there is no secret knock or password required for this delight.
Where: 4612 Park Blvd, San Diego, CA 92116
> Find out more about Park & Rec
Polite Provisions' Hot Buttered Rum
Polite Provisions, a cocktail bar reminiscent of the Edwardian era is located in-between the centrally located neighborhoods of Normal Heights and University Heights. It has created a delicious take on the classic holiday favorite for cold weather, Hot Buttered Rum, which is sure to keep you feeling the holiday spirit. It's light silky texture is very easy to drink if you're not one for spirit forward cocktails. Several spices including nutmeg and clove make this a drink that will reawaken memories of holidays past. Another notable cocktail is the Blind Date that includes a date infused rum, cream and brown sugar. Trust me, this one is way better than cousin Eddie's nog!
Where: 4696 30th St, San Diego, CA 92116
> Find out more about Polite Provisions
Sycamore Den's Noggin Boots & Chapman's Fix
The final destination that has notable cocktails this holiday season is another Normal Heights mainstay named Sycamore Den. If you grew up in the 70s or 80s walking into Sycamore may give you childhood flashbacks before you even order a drink. Lined in wood and housing it's own fireplace, Sycamore has an entire menu devoted to the cooler weather for you to enjoy. Another eggnog inspired drink named Noggin Boots, which you may do after a few of these, is creamy and slightly frothy with a touch of nutmeg. The twist to this cocktail is the coffee infused white whiskey, coffee liqueur and cacao rum that adds a slightly bolder coffee flavor.
On a more tart note, the Chapman's Fix is served over crushed ice with "hints of apples, baking spices and America". I'm not exactly sure what's more American than apple pie but this just might be it. This rye cocktail also has hints of lemon, honey and cinnamon for the warmer San Diego days.
Where: 3391 Adams Ave, San Diego, CA 92116
> Find out more about Sycamore Den