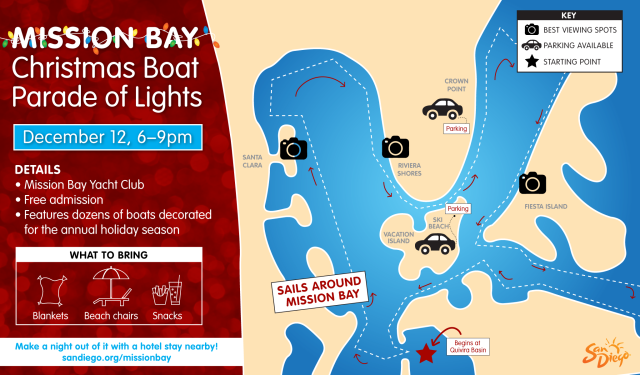 Celebrate the holidays the Mission Bay way!
We're shining a light on Mission Bay this weekend as dozens of boats decorated in holiday lights sail around the bay for the Mission Bay Yacht Club's annual Mission Bay Christmas Boat Parade of Lights. Pack blankets, snacks & beach chairs and snag one of the best viewing spots.
Date: December 12, 2015
Time: 6:00 to 9:00 PM
Cost: Free
> Find out more about Mission Bay Christmas Boat Parade of Lights
Mission Bay Christmas Boat Parade of Lights Parking
Santa Clara
From Mission Boulevard, turn on Santa Clara Place and claim a place along the left side of the fork. Don't forget to leave early to find street parking or parking by the Santa Clara Recreation Center.
Riviera Shores
Take Ingraham Street from Grand Ave. or W. Mission Bay Drive and find parking on the east side either in the parking lot or in the nearby residential areas along Crown Point Drive. From there, walk along Riviera Drive and find a spot on the west side of the strip.
Ski Beach
From Ingraham Street, park in the lot at Ski Beach Park and walk along the shore to watch the boats pass through the Fishermans Channel.
Fiesta Island
After taking E. Mission Drive to Fiesta Island Road, find a place to park along the shore and view the parade from the west side of the island.
> Discover San Diego's Mission Bay & Beaches