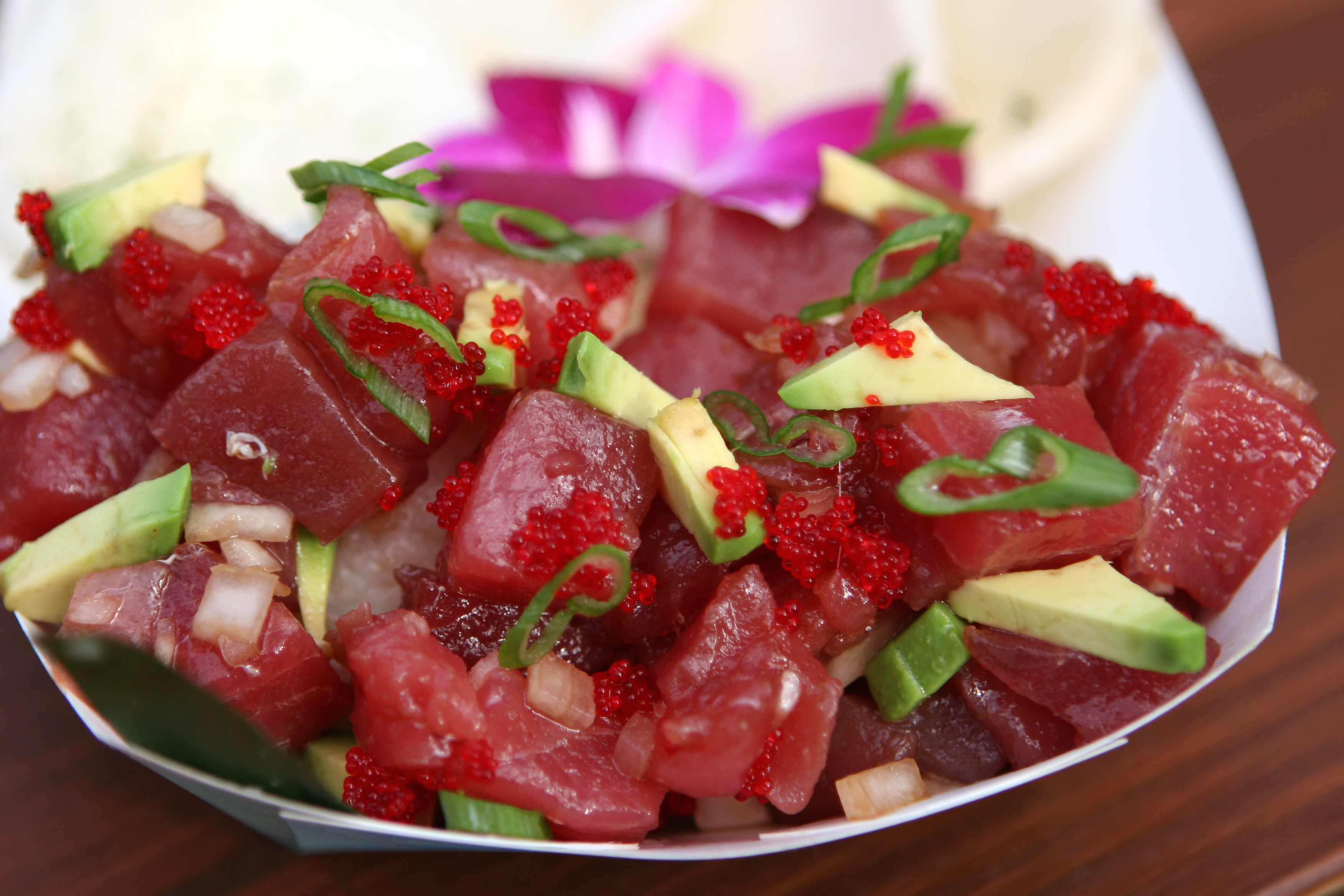 Poke, which means to slice or cut, is a simple Hawaiian dish, traditionally made with chunks of raw tuna, seaweed and salt. But the everyday Hawaiian staple has evolved, with new incarnations popping up all over San Diego. The popularity of poke (pronounced poh-keh) can also be seen with the success of the I Love Poke San Diego event launched seven years ago by Nino "Neens" Camilo. "This event was created as our way of doing a backyard barbecue Hawaiian-style at the Bali Hai right on the water.  We've become one big family; chefs participate in this festival because it's fun and there's a good vibe," explains Nino.
Always fresh, poke can be sold-by-the scoop at deli counters or found as an upscale appetizer at highbrow restaurants. According to Neens, different cultures have influenced on the dish. "Californians added the avocados; Asians the wonton chips, wasabi, soy sauce and more. In Hawaii, poke always comes with rice – serving it without rice is the equivalent of serving an American hot dog without the bun," adds Nino.
Poke's "new skool" is a diverse landscape with poke-inspired raw fish dishes with added ingredients that go beyond the traditional. Discover these top places around San Diego to get your aloha on and enjoy poke.
The Lanai
Head to this little Garden of Eden in Leucadia for authentic Hawaiian eats on a sunny patio with picnic tables. Chef Doug Moric delivers beautiful poke – we recommend the house with raw ahi with soy, sesame oil, sweet onion, scallions, togarashi, and Hawaiian salt or go Californian and add chunks of avo.
Where: 1114 N. Coast Hwy 101, Encinitas, CA 92204
> Find out more about The Lanai
Zarlitos
This National City family restaurant is known for its Filipino and Mexican specialties and Hawaiian-style poke.  Zariltos takes pride in their daily poke platters, offering good variety – think spicy garlic, ahi limu (seaweed), shoyu, ahi fuikake, ahi kimchi, salmon, tako and seared albacore. Not to mention Zarlitos took first place at the I Love Poke Festival in 2015.
Where: 505 E. 8th St, National City, CA 91950
> Find out more about Zarlitos
Fish 101
This local's favorite in Encinitas, known for its sustainably caught fresh fish, dishes up sashimi grade albacore tuna poke appetizer with sesame, shoyu, sweet onion, wakame, and wonton chips, or try their poke bowl with rice, seaweed salads, fresh greens and cucumbers, perfect with a Ballast Point Pale Ale.
Where: 1468 N. Coast Hwy 101, Encinitas, CA 92024
> Find out more about Fish 101
Pokirrito
This fast-casual, build-your-own poke bowl concept comes from visionary Japanese chef Junya Watanabe. Diners move through series of stations selecting their own base (white or brown rice, or kale salad), vegetables, fresh fish, housemade toppings and sauces. You may also want to try their innovative sushi burritos.
Where: 4646 Convoy St, San Diego, CA 92111
> Find out more about Pokirrito
Fishbone Kitchen
Grab a seat at the raw bar of this cool fish shop in Liberty Public Market food hall where you can enjoy lovely ahi poke presented in a martini glass.
Where: 2820 Historic Decatur Rd, San Diego, CA 92106
> Find out more about Fishbone Kitchen
Chris' Ono Grinds
This Hawaiian plate lunch eatery has poke made from sashimi-grade ahi tossed in Chris' ono kine sauce. There's also a delicious bowl with ahi, macadamia nuts, diced veggies all over rice, and drizzled with wasabi aioli.
Where: 4506 30th St, San Diego, CA 92116
> Find out more about Chris' Ono Grinds
Bali Hai
Shelter Island's Polynesian palace and iconic tiki temple since 1954 is another tropical outpost for poke. Dig into the house special, the Island Poke Bowl with ahi over rice and mac salad or savor their top-selling pupu – poke with avocado cream cheese, seaweed, masago (roe) and wontons.
Where: 2230 Shelter Island Dr, San Diego, CA 92106
> Find out more about Bali Hai
The Patio on Goldfinch
The striking Mission Hills eatery with its living green plant walls, fireplaces, gorgeous bar, and open-air patio serves up poke-style ahi tacos with soy-sambal marinated sashimi-grade ahi, Napa cabbage, crispy wontons, and cucumber salad. Delish.
Where: 4020 Goldfinch St, San Diego, CA 92103
> Find out more about The Patio on Goldfinch
Duke's La Jolla
Named for the Olympic swimmer, movie star and man who brought surfing to the U.S. Duke's just opened in La Jolla where you can sit on the swanky deck overlooking the Pacific and enjoy a little aloha. Order up the fresh poke tucked into crispy tacos with shoyu, maui onions, avocado, and wasabi crème fraiche with a Mai Tai, of course.
Where: 1216 Prospect St, La Jolla, CA 92037
> Find out more about Duke's La Jolla
Chandler's
The friendly restaurant at Cape Rey Resort in Carlsbad has a new chef, Teri McIllwain, and one of her menu hits is her take on poke. Head out to the fire pits and savor the Capeside Poke, a mélange of high-grade ahi, rainbow quinoa, Thai chili aioli, marinated seaweed, cucumber, lime and ponzu with wonton chips, perfect for a sunset snack by the sea.
Where: 1 Ponto Rd, Carlsbad, CA 92011
> Find out more about Chandler's
Local Farmers Markets
From Hillcrest and Little Italy to Scripps Ranch, Encinitas and Oceanside, several companies are selling delicious poke to take home or eat while strolling the farmers market. Look for the San Diego Poke Company, It's Raw Poke, and Iln Lyf Food.
Make Your Own Poke
If you want to make poke for yourself, Catalina Offshore Products reigns as the place for fresh fish. Talk to San Diego's finest fish monger Tommy Gomes and he'll lead you in the right direction.
Where: 5202 Lovelock St, San Diego, CA 92110
> Find out more about Catalina Offshore Products
Coming Soon
Good Time Poke
Keep an eye out for this new, casual daytime eatery in Pacific Beach that will front a tiki-themed speakeasy, The Grass Skirt, a hub for rum-inspired cocktails and nighttime fun. Opening Fall 2016.
Where: 910 Grand Ave, San Diego, CA 92109
> Find out more about Good Time Poke
Pokewan
This build-your-own poke concept, created by the owners of Love Boat Sushi, comes to Carlsbad in Summer 2016. The grab-and-go eatery will offer seven different types of fish with one special catch of the day and a variety of bases, sides, sauces and toppings.
Where: 2958 Madison St, Carlsbad, CA 92008
> Find out more about Pokeway
I LOVE POKE SAN DIEGO
This island-spirited celebration of Hawaiian culture and cuisine takes place in at Bali Hai on Shelter Island. It features Pokeland where 20 creative chefs compete for the "Best Poke" crown, and Foodland, a sampling zone with Hawaiian and Asian-inspired foods. Poke-making demos and live music add to the fun. Don't miss this mecca for poke! And this year's festival benefits the Ronald McDonald House.