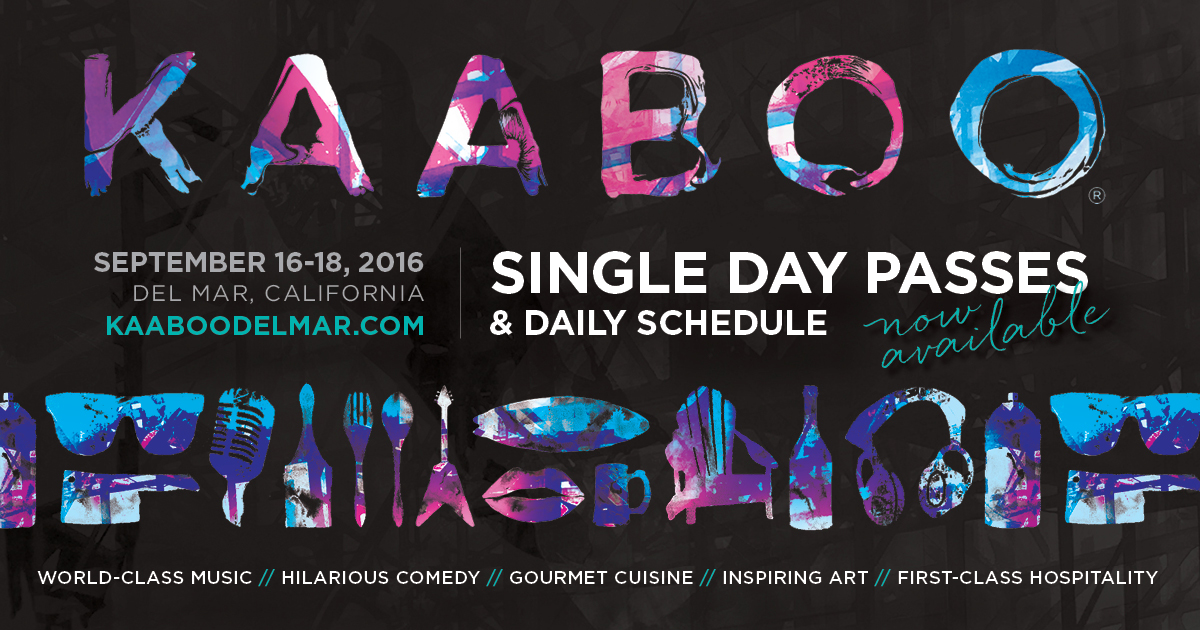 If you've heard of KAABOO, then you know what makes this the ultimate "Mixperience" and why you should make plans to join in the fun! If you haven't discovered the KAABOO experience yet, here are a few reasons that you'll want to reserve September 16-18 for a Vacation/Staycation and join us at KAABOO Del Mar!
1. The Music
KAABOO has curated the lineup to be a musical journey from legendary classic rockers to some of the latest, most buzz-worthy chart-toppers. Creating a bill that is even more diverse and deep than the inaugural year, KAABOO has established a mix of bands where guests can see their favorites and discover new favorites all in the same weekend.
If you're still waiting to check a live Aerosmith show off your bucket list, this is your chance. Also catch Jimmy Buffett and the Coral Reefer Band, Jack Johnson, Fall Out Boy, Lenny Kravitz, Daryl Hall & John Oates, The Avett Brothers, The Chainsmokers, plus dozens more noteworthy acts. Check out the full lineup at www.kaaboodelmar.com/lineup.
2. The Comedy
Chill out in our air-conditioned comedy club, Humor Me, with nationally recognized comedians. Take a seat as you laugh with Sarah Silverman, Dana Carvey, Cheech and Chong, Darrell Hammond, Vanessa Bayer, and even Del Mar native Taylor Williamson…just to name a few.
3. The Food and Libations
Even if you're coming for the music, you'll enjoy the food! Palate is a foodies delight with tastes from 25 local restaurants and over 50 craft beer, wine and spirits. Looking for grub on the go? KAABOO has you covered with gourmet grab-n-go options ranging from an acai bowl from Sambazon to a delicious California-style burger from Caliburger. Looking for a sugar fix – stop into the Dylan's Candy Bar Pop-Up Shop for a sweet treat. Eat your way through the weekend with the full culinary. Eat and drink your way through the weekend with the full culinary lineup at www.kaaboodelmar.com/the-experience/palate.
4. The Art
Take a leisurely stroll through our inspiring contemporary art gallery, featuring curated installations, paintings, sculptures, photography and jewelry from this year's impressive lineup coming to us from across the country and around the world. Experience large murals and installations, with some created right in front of your eyes. KAABOO's public art and indoor exhibition transform the venue into an evolving journey of surprise, delight and discovery.
5. Personal Indulgences
A 3-day live music event doesn't have to leave you worn down! With KAABOO Del Mar's Indulgences Lounge presented by Meet Me at the Spa, you can take a break from the action to rejuvenate and refresh. Offering express treatments and full 50-minute spa treatments, you can make an appointment for a manicure, massage or just get a reset on your makeup! And best of all, there are plenty of services for the guys, too!
6. Hospitality and Comfort
KAABOO is an elevated "mix-perience" and we're giving you the creature comforts that we, as adults, enjoy! It's more than your typical festival…KAABOO has all of the makings of a comfortable event. We have plenty of shade and seating, all restrooms are clean with flushable toilets (no portapotties). And there is no dirt, dust or mud to fight through just to have a good time.
Amplify your experience with HANG FIVE program. Enjoy dedicated viewing areas, lounges and access to the Thursday Night AMPLIFY event to get your KAABOO Del Mar weekend started sooner!