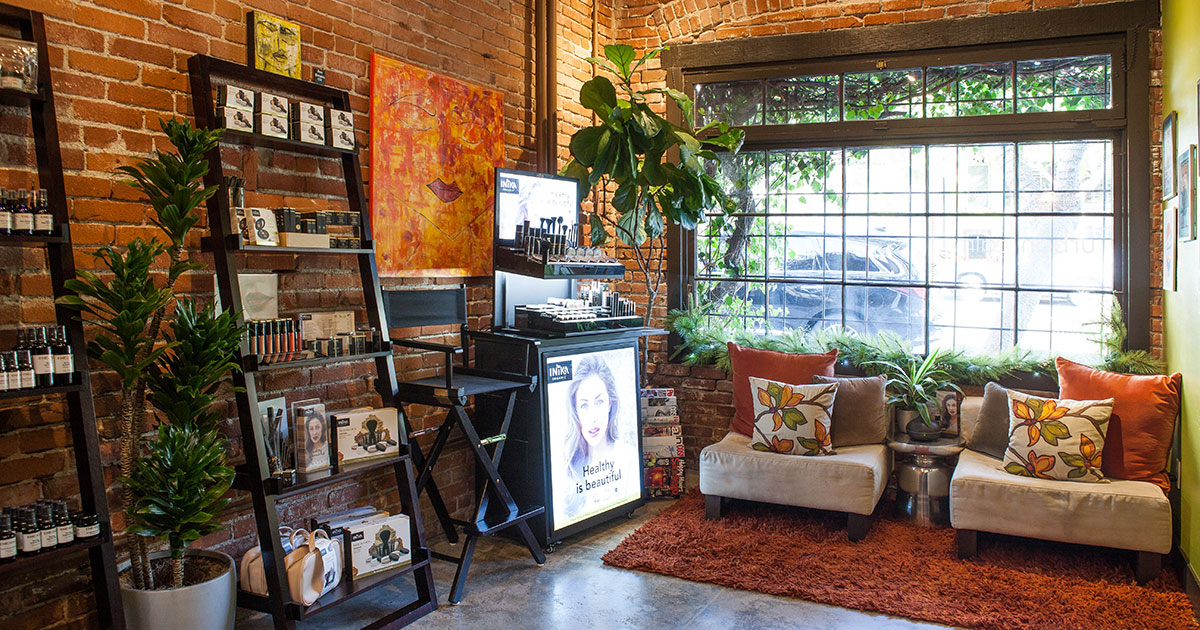 Want to really treat yourself? Relax, recharge, and rejuvenate with one of San Diego's most innovative spa treatments. We talked with three San Diego spas about what's hot, what's trending, and how you can experience the best new treatments.
Rock Spa at the Hard Rock Hotel San Diego
The trend: Multisensory
Imagine relaxation set to a rockin' playlist. It's easy if you try. The Rock Spa's Synchronicity massage, part of its musical Rhythm and Motion series of treatments, pairs Swedish and hot stone massage techniques with a blend of classic and modern rock. Master massage therapist Kyra scrubs, rubs, and drums you – lightly, but with real drumsticks – into total bliss while booming bass vibrations resonate up through the table and tunes stream down from a domed speaker just overhead. The soothing smell of essential oils adds another element to the mix. It's easy to zone out during a massage, but familiar songs help keep you in the moment as Kyra matches her rhythm, pressure, and strokes with the playlist.
Spa Director Brooke Zarconi says the Synchronicity massage is becoming one of the Hard Rock's most requested services because it's cool, unique, and so different from your average spa massage. The treatment can also be customized. Choose from four playlists: soothing sounds, softer rock, classic rock and covers, and a combination that will transform the spa setting into a cozy, cool venue. "We're not the typical spa – we're dark and intimate and small."
Another bonus: the Rock Spa uses organic products, such as the sugar foot scrub that kicks off the experience. "We're all trying to get away from the toxins," she says. Experience this mix of classic, modern, hard, and soft all coming together in perfect harmony at the Rock Spa at the Hard Rock Hotel San Diego in the Gaslamp Quarter.
Where: 207 Fifth Ave, San Diego, CA 92101
> Find out more about the Rock Spa at the Hard Rock Hotel San Diego
Urban Calm
The trend: Eco-friendly
We love our sunshine here in San Diego, but tanning isn't exactly healthy. So what about the alternative, spray tans? What used to be orange has gone green at Urban Calm. The East Village sanctuary promises to give its clients a gorgeous, sun-kissed glow using all-natural, organic ingredients. Owner Heidi Olden says that when she started out in the spa industry nearly 20 years ago, she had to search long and hard to find products that were free of harmful chemicals but still effective. "When I became an esthetician and learned about how much of what we put on our skin is absorbed into the body, I became even more passionate about natural skin care products."
Now her business caters to clients seeking organic skin care treatments and clean beauty services. That includes spray tanning. "I've always tried to educate my clients about the damaging effects of too much sun exposure," she says, "so I really wanted to offer a natural sunless tanning option as an alternative to lying out in the sun." Urban Calm uses an Australian sunless tanning solution that contains Eco Certified DHA and a handful of other organic ingredients like green tea, aloe, and coconut. Olden says there's no odor, it doesn't streak or turn orange, and it usually lasts for five to seven days. "I love being able to offer this alternative to my clients so that they can have that nice, healthy glow without subjecting themselves to prolonged sun exposure, which can lead to premature aging, wrinkles, and sun spots."
Where: 726 Ninth Ave #3, San Diego, CA 92101
> Find out more about Urban Calm
The Spa at Fairmont Grand Del Mar
The trend: Detox
Several treatments at the five-star Spa at the Fairmont Grand Del Mar in the Los Penasquitos Canyon Preserve center around flushing toxins from the body by stimulating the lymphatic system. Manual Lymph Drainage, a type of light, rhythmic massage, removes toxins and ushers in deep relaxation. A half-hour treatment focuses on the face and neck and can alleviate symptoms of sinusitis and congestion, improve the condition of the skin, reduce the appearance of puffy eyes and dark circles, and help speed up the recovery process after facial surgery. If that wasn't enough to make you feel renewed, longer treatments are said to reduce inflammation, relieve pain, and promote further healing.
The Spa at the Fairmont Grand Del Mar also uses dry brushing techniques to stimulate the lymphatic system in its touch-therapy treatments. In the "Refined" option, a full-body dry brushing is followed by a sea salt body scrup and finished with hydrating body oil. Detoxifying Epsom salts are also used in the spa's hour-long Herbal Relexology hand and foot treatment.
Where: 5300 Grand Del Mar Ct, San Diego, CA 92130
> Find out more about the Fairmont Grand Del Mar