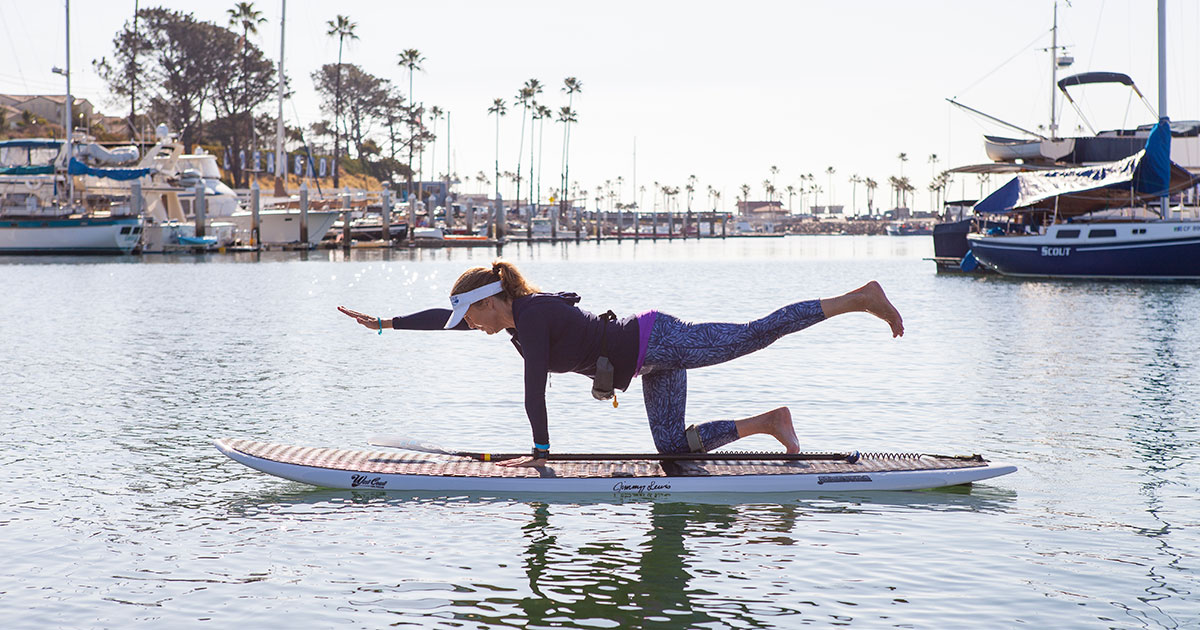 Hikers, bikers, and yogis rejoice. Whether you're trying to stay in shape during your vacation or just in the mood to try something new, in a fitness-focused town like San Diego, there's surely something for everyone.
Get out of the studio and try SUP yoga. Short for stand-up paddleboard, SUP combines two of our favorite low-impact workouts, and you can't beat that ocean breeze. Anchor your board and focus on balance, or get comfortable with getting wet. Stoked Yogi offers classes in Mission Bay and Carlsbad Lagoon, which you can book in advance. Near Mission Beach? Sign up for a Bliss Paddle Yoga class. Or set up a SUP Yoga workshop in San Diego or Mission bays with Paddle into Fitness.
Running is the perfect vacation workout. Get your heart pumping and enjoy some of San Diego's best scenery along the way. And really, all you need to pack is a pair of sneakers. So lace up those running shoes and hit the road. Check out these popular routes:
The Embarcadero
Check out relics from the city's long maritime history, cruise ships, and yachts as you jog along San Diego Bay and perhaps take a detour through Waterfront Park or Seaport Village.
Mission Bay
This flat, nearly 12-mile loop takes you past stretches of gorgeous shoreline, Fiesta Island Park, the Bahia Resort, and two wildlife preserves.
Sunset Cliffs
Sunset Cliffs offers some of the best ocean views in town. This path will take you along the rocky cliffs from Ocean Beach to Sunset Cliffs Park. Not tired yet? Continue along the looping trails of Sunset Cliffs Park.
Lake Murray
Take this flat trail in La Mesa around the reservoir to the dam gate, then turn around and head back for a roughly 6-mile run.
Pacific Beach Boardwalk
Navigate your way through walkers, bikers, and rollerbladers on this paved oceanfront run. Or wait for low tide and run along the sand above the crashing waves.
3. Triathlon
San Diego is the birthplace of the modern triathlon, so if you're up for the grueling run-swim-bike race, sign up for one of the many held at various locations around town. Check out what's coming up in the San Diego Triathlon Series and others around San Diego County online.
So many trails, so little time. Whether you're seeking an adventure in the rolling mountains of East County or a cliff-side excursion high above the Pacific Ocean, trails in San Diego range from family-friendly beginner to expert-level terrain for the seasoned pro. Here are some of our San Diego favorites:
Cowles Mountain, Mission Trails Regional Park
The highest peak in San Diego
3 miles, moderate
Torrey Pines State Beach, La Jolla
Accessible off Torrey Pines Road
3 miles, moderate
Balboa Park
65 miles of trails, easy
Mount Woodson Trail, Poway
Accessible via state Route 67 and Mount Woodson Road. Get an Instagram shot at Potato Chip Rock!
6.4 miles, difficult
Pacific Crest Trail segment, Mount Laguna
Accessible via Sunrise Highway
4 miles, moderate
Palomar Observatory Trail, Cleveland National Forest
Off Canfield Road
4 miles, easy
The Slot, Anza-Borrego Desert State Park
2 miles, easy
Stonewall Peak, Julian
Off state Route 79
4 miles, moderate
Three Sisters Falls, Cleveland National Forest
Accessible via Boulder Creek Road
4 miles, difficult
Whether on a mountain bike or beach cruiser, alone or in a group, there's a ride here for you. With over 260 days of sunshine and hundreds of miles of trails, there's no reason not to go for a spin. Rent a bike from SoCal Bike (328 S. Coast Highway, Oceanside), Pedego San Diego (900 Bayfront Court, downtown), or cruise around on a DecoBike, which can be picked up and returned to more than 180 stations around town. Look for green bike lanes throughout San Diego for a safe, protected lane for riding.
Tone those guns and explore San Diego's waters while you're at it. Kayaks are available for rent at various locations along the coast. Kayak tours are also a great way to sneak in a workout while you take in scenic ocean views. Book a tour at La Jolla Kayak (2199 Avenida de la Playa), or rent a kayak from the Mission Bay Aquatic Center (1001 Santa Clara Place).