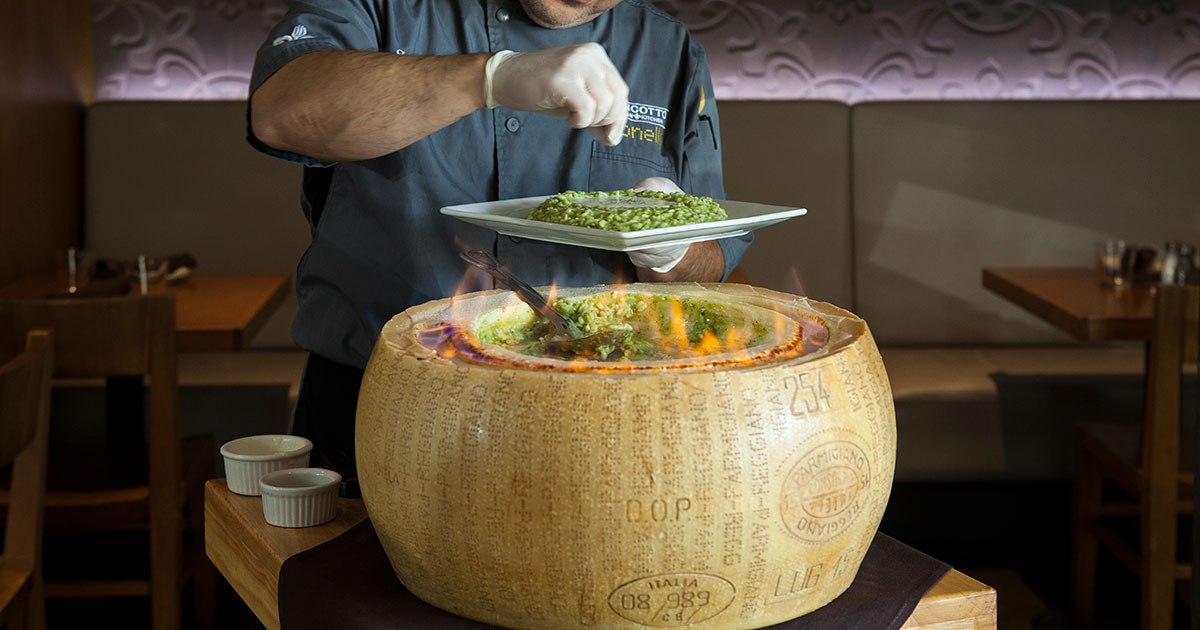 In the classic French style of service, top chefs with the most expertise were trotted out from the kitchen in Europe's finest restaurants to dazzle guests with fancy techniques of whipping, chopping, carving, and flambéing. It was food as theater. Today, even in the face of the growing fast casual and counter service trends, tableside preparations are making their way back into dining rooms both casual and upscale.
Here's a roundup of San Diego's most tasty tableside creations, from the waterfront to the foothills.
Born & Raised
Little Italy's gorgeous new steakhouse Born & Raised straddles the line between elegant and modern. San Diego Magazine food critic Troy Johnson calls the $7 million space "a grand, elaborate investment in America's past," where servers clad in tuxedo jackets and Chuck Taylors offer classics like steak Diane and rib of beef with Yorkshire pudding as well as de rigueur dry-aged cuts of beef and duck. Wheeled out on ornate carts with brass and wood detailing, the tableside preparations of steak tartare, classic French omelets, and shrimp Louie take the drama up a notch.
Where: 1909 India St, San Diego, CA 92101
> Find out more about Born & Raised
Monello
Just down the block in Little Italy's culinary center, Monello (the "naughty little brother" to longtime local favorite Bencotto next door) finishes orders of classic Italian risotto tableside in a unique vessel: a wheel of imported Parmigiano Reggiano cheese. The cheese is the final ingredient in the creamy rice dish and, instead of grating or tossing it in, chef Fabrizio stirs and scrapes the entire order inside the cheese wheel, which is lit afire at the edges to keep the dish warm. Rumor has it, they will also finish other pasta dishes in the wheel at a guest's request.
Where: 750 W Fir St, San Diego, CA 92101
> Find out more about Monello

Manhattan of La Jolla
Head up to La Jolla for another classic tableside dish: Caesar salad. Originally invented just south of San Diego at Hotel Caesars in Tijuana, the legendary salad's egg, anchovy, lemon, garlic, and Parmesan dressing makes for an impressive show when mixed fresh at the table. Manhattan of La Jolla has made it a signature experience for years in its swanky Empress Hotel restaurant that's hosted celebrities like Ann Bancroft, Mel Brooks, Johnny Depp, and Jay Leno over the years. For locals, it's been a beloved spot for special occasions for more than 20 years.
When: 7766 Fay Ave, La Jolla, CA 92037
> Find out more about Manhattan of La Jolla

Coasterra
Any list of tableside dishes served in San Diego wouldn't be complete without guacamole. It's the local version of bread and butter in a region that produces 40 percent of the nation's avocados – and it's most impressive when prepared fresh at the table with simple ingredients: Avocados, smashed with garlic, onions, lime, salt, and salsa fresca garnish. Try it alongside an unparalleled view of the city skyline at Coasterra on Harbor Island, an upscale Mexican restaurant right on the bay.
Where: 880 Harbor Island Dr, San Diego, CA 92101
> Find out more about Coasterra
Ortega's
Travel deep into Hillcrest, one of the city's original foodie neighborhoods, and find Ortega's tucked away in the corner of small strip mall. Almost as famous as their tableside guacamole is their simple, seasonal offering of Puerto-Nuevo style lobster dishes served in the rustic space with thick wood tables and colorful, imported glassware.
Where: 141 University Ave, San Diego, CA 92103
> Find out more about Ortega's

Riviera Supper Club
For a twist on tableside, try La Mesa's Riviera Supper Club. Its nod to midcentury steak houses is evident in the both menu (steaks, chops, and sides like macaroni and cheese and bourbon baked beans) and the décor of cozy booths, dim lighting, and live music – all housed in a classic 1962 building that was once home to the Department of Motor Vehicles. Here's the twist: It's a DIY grill. You pick your protein and cook it yourself on a large communal grill, equipped with tongs and seasonings. The kitchen handles the sides (and we hear they'll help you with your meat if requested) and desserts like bacon chocolate cake and s'mores casserole. A warning to those who opt to sip a Sidecar while manning the grill: The cocktails are served famously stiff.
Where: 7777 University Ave, La Mesa, CA 91941
> Find out more about Riviera Supper Club