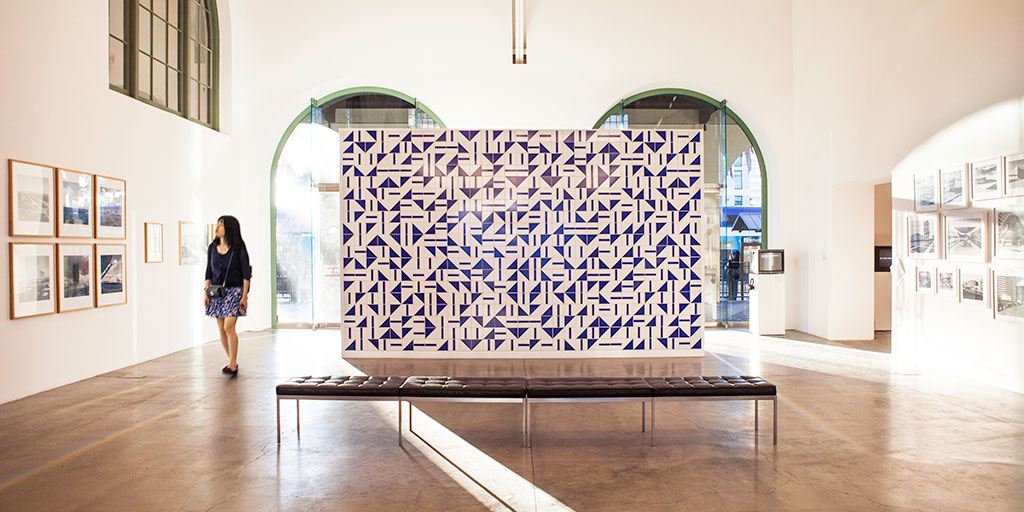 San Diego's local art scene is thriving more than ever. World-class museums abound across the county. As do independent galleries, unique pop-ups, and outdoor installations that can be enjoyed year-round, thanks to our perfect climate. February is Macy's Museum Month in San Diego, which means you can enjoy half off admission to more than 40 local museums. When you're looking for inspiration, it's easy to enjoy the bounty of artistry right here in these creative-minded 'hoods.
Little Italy
The Museum of Contemporary Art San Diego's downtown location is a must-visit for modern art aficionados and just blocks from Little Italy. This acclaimed museum offers a rotating schedule of shows in addition to a large permanent collection, which includes everything from video art to large-scale sculptures. Nearly a dozen boutique galleries can be found in Little Italy, and local galleries like Subtext Gallery or Sparks Gallery are close by in the Gaslamp Quarter. Best of all, Little Italy is arguably one of San Diego's hottest drinking-and-dining 'hoods. So cocktails and fine dining await in spades just outside the MCASD's doors.
Balboa Park
Fans of photography, contemporary folk art, European master painters, and everything in between will be wowed by at least one (if not all) of the 17 museums in Balboa Park during Museum Month. Stroll through the Botanical Gardens on your way to the San Diego Museum of Art, or enjoy a cheese plate among the sculptures next to Panama 66. Visitors can also pop into local artisans' studios in the Spanish Village Art Center to watch working artists in action and purchase one-of-a-kind prints, jewelry, pottery, and more.
Liberty Station
In the past 10 years, Point Loma's Liberty Station has evolved into a world-class arts-centric destination. From promenades that feature massive sculptures to art studios open to the public, the Arts District is a thriving creative hub with something for everyone. And they're just getting started; new restaurants, galleries, and shops seem to open every day. Don't miss Friday Night Liberty every first Friday of the month from 5:00 to 9:00 PM. It's the city's biggest (free!) monthly art walk and features art, music, dance, and theater.
North Inland
Escondido, located in the northeast region of San Diego, boasts some of the best art in the county. The California Center for the Arts, Escondido is home to a contemporary art museum, art studios, concert hall, theater, and more, making it one of San Diego's biggest centers for arts and culture. Catch a performance by a touring symphony or stop by for one of the famed Jazz Jam Sessions before.
North Coastal
Head north along the coast to the Oceanside Museum of Art. This seaside museum hosts temporary exhibits and arts workshops for a variety of ages. Just around the corner is the California Surf Museum, home to thousands of rare surfing artifacts and photographs. Once you've had your art and history fill, visit the beautiful Oceanside pier to catch a Pacific sunset.