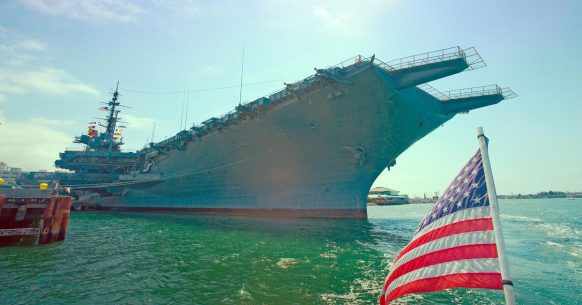 Memorial Day is a time to remember and honor those who gave all in service of our country. The weekend is also the quintessential signal for the start of summer. Make your travel plans now and spend the long weekend honoring our heroes and kicking off summer in California's Beach City.
While you enjoy everything California's Beach City has to offer, please take some time to remember all of those that gave their lives in the service of the United States Armed Forces at one of the many Memorial Day Weekend observances and memorial sites.
When: May 25-26, 2018
Where: 29902 Valley Center Rd., Valley Center, CA 92082
Welcome to the Valley Center Stampede Rodeo and Festival, brought to you each Memorial Day Weekend by the Valley Center Optimist Club. Our town may be small, but our community's great love of rodeo is evident by the thousands that show up each year to cheer on their favorite cowboys and cowgirls. This year will be no exception, and we invite you to come enjoy our family-friendly rodeo and community festival.
When: May 26 – June 24, 2018
Where: The Old Globe – 1363 Old Globe Way, San Diego, CA 92101
Young power couple Pablo and Tania get their piece of the American dream when they purchase an upscale house in a historic neighborhood. But a disagreement with their next-door neighbors Virginia and Frank over the property line that separates their backyards soon spirals into an all-out war of taste, class, and gardening. The hedgerow becomes the site of a culture clash and friendly neighbors turn into flower-flinging enemies in the West Coast premiere of Karen Zacarías's uproarious Native Gardens.
When: May 26, 2018
Where: Balboa Park, San Diego, CA 92101
Celebrate the 150-year anniversary of Balboa Park's founding, to the day, at the second annual Fiesta Botanica. Kicking off the historic day's festivities at 10:00 a.m. will be the colorful floral wagon parade, led by its Grand Marshall, State Assemblymember Todd Gloria, and the Scripps High School Marching Band and Color Guard. The parade will be followed by a full day of lectures, gardening demonstrations, kids activities, and tours showcasing the park's rich horticultural history. Butterfly releases, live entertainment, and food trucks will punctuate the festive celebration.
When: May 26, 2018
Where: Grape Day Park, 321 North Broadway, Escondido, CA 92025
The American Heritage Car Show is celebrating 21 years! If you have a pre-1974 domestic or imported vintage, classic, hot rod, or muscle car, join us for one of the best shows in town! Held in Grape Day Park in Escondido, the show features a pancake breakfast, DJ and live entertainment, beer and wine garden, vendors, raffle, and prizes!
When: May 26, 2018
Where: Riverview Parkway and Town Center Parkway, Santee, CA 92071
Join more than 30,000 visitors for the 10th Annual Santee Street Fair and Craft Beer Festival featuring live music and entertainment, more than 300 food and craft vendor booths, carnival rides and more!
When: May 27, 2018
Where: House of Pacific Relations International Cottages – 2191 W Pan American Rd, San Diego, CA 92101
Annual celebration of food from around the world! Sample the culinary treats of 34 different cultures and witness performances in native costumes. Features musical and dance performances on the HPR stage.
When: May 27, 2018
Where: The Lafayette Hotel, Swim Club & Bungalows – 2223 El Cajon Blvd, San Diego, CA 92104
Say HELLO SUMMER at our first party this Memorial Day weekend in May, where we will have entertainment, artists and pool games. Our hotel's unique personality continues to charm every day, where you can enjoy a classy time in your best suit, or splash around with friends and festive floaties. Whatever your style is, we are ready to stimulate your senses and celebrate the late summer afternoons that you deserve.
When: May 27, 2018
Where: 127 Main Street, Vista, CA 92084
The Vista Strawberry Festival is the only festival in San Diego County that celebrates all the joys and pleasure of the Strawberry. Vista was once the "Strawberry Capital of the World" and still boasts many strawberry fields. Come enjoy our celebration of the 'berry as we bring over 300 vendors, athletic competition, pie eating, costumes, beauty, carnival rides, music, food, and much more together in Historic Downtown Vista.
When: May 28-31, 2018
Where: Petco Park, San Diego, CA 92101
Catch the San Diego Padres take on the Miami Marlins at Petco Park! Game day event and promotions include: Monday – Reusable Bag Giveaway and Tuesday – Taco Tuesday.
More Top Things to Do in San Diego

Top Things to Do Weekend Forecast