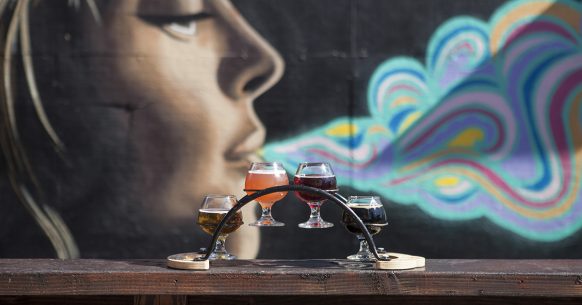 San Diego's 150-plus breweries have a lot of personality—some more than others. These themed breweries are among those that exude flair the way IPAs exude hops. Inspired by punk rock, Mexican culture, the American Frontier, and more, these breweries aren't shy about serving up some personality with each craft-brewed pint.
Where: 2870 Scott St #102, Vista
Neighborhood: Vista
This Vista brewery got its start when two gamers decided to nerd out on beer. They naturally named the operation for warriors with magical powers who populate fantasy books and games. Their lair is stocked with German Hefeweizens and Milk Stouts made with toasted cocoa nibs or cold brew coffee and other out-of-this-world creations.
Where: 2181 Logan Ave.
Neighborhood: Barrio Logan
San Diego and Tijuana are two sides of the same coin, a dynamic embodied in Barrio Logan's first brewery and tap room. While Mexican Lagers have become a favorite of craft brewers of late, this brewery takes the Mexican vibes a step farther with inventive fusions like Horchata Golden Stout and Abuelita's Chocolate Stout alongside more traditional Belgian and German beers.
Where: 10960 Wheatlands Ave
Neighborhood: Santee
Saddle up, pardner. This Frontier-themed tasting room in Santee serves up its Ole Prospector Red Ale and Revolver IPA amidst country music and of course taxidermied decor.
Where: 9495 Candida St.
Neighborhood: Miramar
To say White Labs' Miramar tasting room is yeast-themed is an understatement indeed. The tasting room's excellent beers are all brewed with yeast that has been studied, bred, and packaged in the facility that is part laboratory, part manufacturing site, and part brewery. Many top breweries around the world, including big local and global names, plus untold numbers of home brewers, source their yeast from right here because of its reliably high quality.
Where: 7949 Stromesa Ct.
Neighborhood: Miramar
Besides IPAs and Irish Reds, the draw to this Miramar brewery is a whimsical WWII motif embodied in bomb-shaped taps and trays for flights, and other bombastic decorations like wartime propaganda posters from the era.
Where: 5840 El Camino Real
Neighborhood: Carlsbad
In cycling speak, a "rouleur" is a well-rounded rider. In beer speak, it's a homegrown cycling-themed brewery in Carlsbad serving sour beers and European classics like Berliner Weisse brewed with raspberries, Belgian Pale Ale, and IPA. No spandex necessary.
Where: 259 3rd Ave.
Neighborhood: Chula Vista
Punk rock pervades the ambience of this Chula Vista brewery serving up suds that riff off IPA, Imperial Stout, Pilsner, and Mexican Lager. You don't have to be hardcore to pay a visit. But rest assured the brewers are hardcore beer lovers who know their craft.