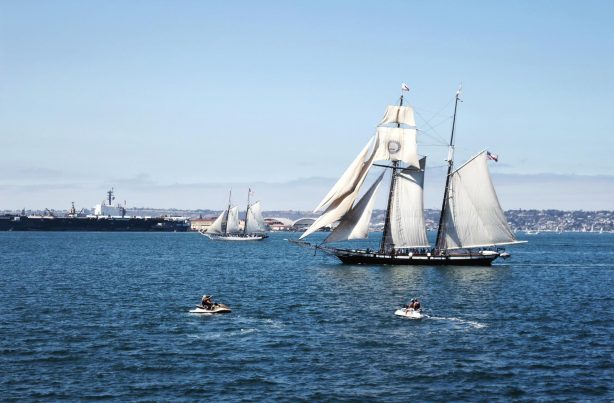 San Diego invites you to spend the upcoming weekend in California's Beach City enjoying Museum Month and these top things to do.
When: February 7-17, 2019
The festival annually showcases a selection of the best contemporary Jewish-related films in multiple genres and aims to educate and illuminate the diverse Jewish experience through evocative, independent narrative and documentary films.
When: February 7-10, 2019
When: Tenth Avenue Arts Center – 930 Tenth Avenue, San Diego, CA 92101
This yearly festival brings some of the top talent from all over the nation to both perform and teach right here in our own backyard!
When: February 8-10, 2019
Where: Mira Mesa Community Park – 8575 New Salem Street, San Diego, CA 92126
The San Diego Tet Festival features Lion Dancing, Music, Rides, and More! Join us in welcoming the Year of the Pig as we Spring To New Horizons!
When: February 8-10, 2019
Where: San Diego Repertory Theatre – 79 Horton Plaza, San Diego, CA 92101
The three-day festival that includes traditional African art and pageantry, drama, educational workshops, community leadership awards, an African marketplace, a health fair, Hip Hop Showcase, tribute to the famed Apollo Theatre "Live at the Lyceum," a Gospel Concert, and powerful guest speakers and artists.
When: February 8, 2019
Where: San Diego Natural History Museum – 1788 El Prado, San Diego, CA 92101
Celebrate Valentine's Day a little differently this year at The Secret Society of Adultologists: Red, a gushy, mushy, get-a-room public display of affection for nature. Bring a date, a group of friends, or an archenemy for a night of craft cocktails, beer, delicious food, behind-the-scenes opportunities, rooftop views, and conversations with The Nat's very own scientists.
When: February 9 – March 10, 2019
Where: The Old Globe – 1363 Old Globe Way, San Diego, CA 92101
Based on the best-selling book by Cheryl Strayed, Tiny Beautiful Things follows the relationships between an anonymous advice columnist named Sugar and the many real-life readers who pour out their hearts to her. Academy Award nominee Nia Vardalos (My Big Fat Greek Wedding) adapts Strayed's book into an enrapturing and uplifting play that surges with emotion and is called by Variety "a theatrical hug in turbulent times." Tiny Beautiful Things is about reaching when you're stuck, recovering when you're broken, and finding the courage to ask the questions that are hardest to answer. Tissues recommended.
When: February 9, 2019
Where: Historic Downtown Escondido – 198 Maple St Plaza, Escondido, CA 92025
Bring your sweetheart or just your sweet tooth to beautiful Downtown Escondido to enjoy the "For The Love of Chocolate" Escondido Chocolate Festival. Stroll through Downtown Escondido various designated restaurants, shops and spas while sampling chocolates paired with local fine wines and craft beers.
When: February 9, 2019
Where: Bagby Beer Company – 601 South Coast Hwy, Oceanside, CA 92054
Get your glasses ready for the 10th Annual Brewbies® Festival benefitting the Keep A Breast Foundation at Bagby Beer Co. in Oceanside. Enjoy an array of outstanding, interesting, unique and (our favorite) signature PINK beers from over 40 of the best breweries around!
When: Thru February 18, 2019
Where: SeaWorld San Diego – 500 SeaWorld Dr, San Diego, CA 92109
Come celebrate SeaWorld San Diego's family-friendly Lunar New Year event, where you'll enjoy a riveting Chinese acrobat show, be awed by lion dancers, and be enveloped in wonderful sights, sounds, tastes and aromas characteristic of Asia.
When: Thru February 28, 2019
Pick up your Museum Month discount pass at a San Diego City or County libraries or receive a Museum Month pass when you book a stay in February at one of Hilton's 29 participating locations throughout San Diego County to enjoy half-off admission at more than 40 San Diego Museum Council (SDMC) member museums. Whether you are an art aficionado, history buff, or nature lover, the SDMC has a variety of member organizations that are bound to capture your interest.
More Top Things to Do in San Diego