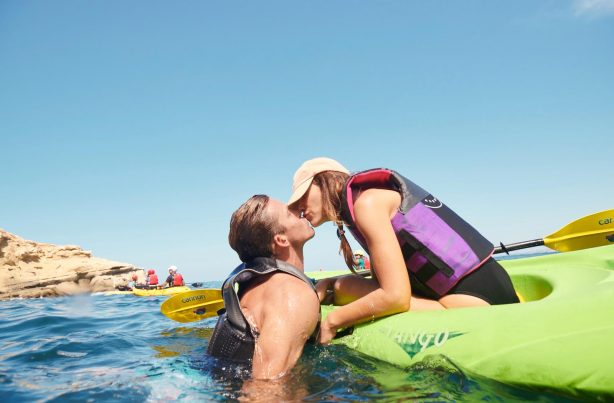 Make it a long, romantic, and adventurous weekend with a getaway to San Diego to enjoy Valentine's Day, the President's Day holiday, and these top things to do.
When: February 12, 2019
Where: San Diego Convention Center – 111 W Harbor Drive, San Diego, CA 92101
Join us for an evening of free, community yoga inside the iconic San Diego Convention Center Sails Pavilion.
When: February 14-24, 2019
More than 30 San Diego performing arts organizations have come together to collaborate on and promote the fourth annual San Diego Theatre Week, a celebration of performing arts that will serve to promote the vast array of performing arts in the city.
When: February 14, 2019
California's Beach City invites you to celebrate your love by doing something spontaneously different. Dance the night away in the Gaslamp Quarter or kick back with an award winning craft beer at a local tasting room. Swap out the walk on the beach with a hike to heights with unparalleled views. Or learn a new skill together…like standup paddleboarding.
Opening: February 15, 2019
Where: Fleet Science Center – 1875 El Prado, San Diego, CA 92101
The Fleet's newest exhibition, Pause|Play, is an invitation for the young and young-at-heart to take a much-needed break. We invite you to put your digital life on pause and take the time to play. All throughout the exhibition, fun activities—such as speeding down a slide, taking a spin on the merry-go-round or shooting hoops—are upgraded with STEM to create memorable moments
When: February 16-24, 2019
Where: LEGOLAND California – One LEGOLAND Dr, Carlsbad, CA 92008
LEGOLAND® California Resort is hosting the ultimate celebration of the new THE LEGO® MOVIE™ 2! Join Emmet, Wyldstyle and the gang during event weekends with exclusive building activities, out-of-this-world character experiences, interactive photo opportunities and more!
When: Thru February 18, 2019
Where: SeaWorld San Diego – 500 SeaWorld Dr, San Diego, CA 92109
Come celebrate SeaWorld San Diego's family-friendly Lunar New Year event, where you'll enjoy a riveting Chinese acrobat show, be awed by lion dancers, and be enveloped in wonderful sights, sounds, tastes and aromas characteristic of Asia.
When: Thru February 28, 2019
Pick up your Museum Month discount pass at a San Diego City or County libraries or receive a Museum Month pass when you book a stay in February at one of Hilton's 29 participating locations throughout San Diego County to enjoy half-off admission at more than 40 San Diego Museum Council (SDMC) member museums. Whether you are an art aficionado, history buff, or nature lover, the SDMC has a variety of member organizations that are bound to capture your interest.
When: Thru April
Each year, more than 20,000 gray whales make a 10,000-mile round-trip journey from Alaska to the lagoons of Baja California, where the females give birth to their calves. With 70 miles of coastline directly in the migration path, San Diego is an ideal destination to see this impressive parade of gentle giants.
More Top Things to Do in San Diego