With its 70 miles of sparkling Pacific shoreline, San Diego is an aquatic paradise. But while the region beckons wave-lovers with such world-class surf breaks as Swami's and Windansea, San Diego also boasts plenty of gentler spots that are perfect for even the littlest visitors to enjoy the wonders of our waters. Here's a look at seven San Diego beaches that will delight small swimmers and their families.
Kellogg Beach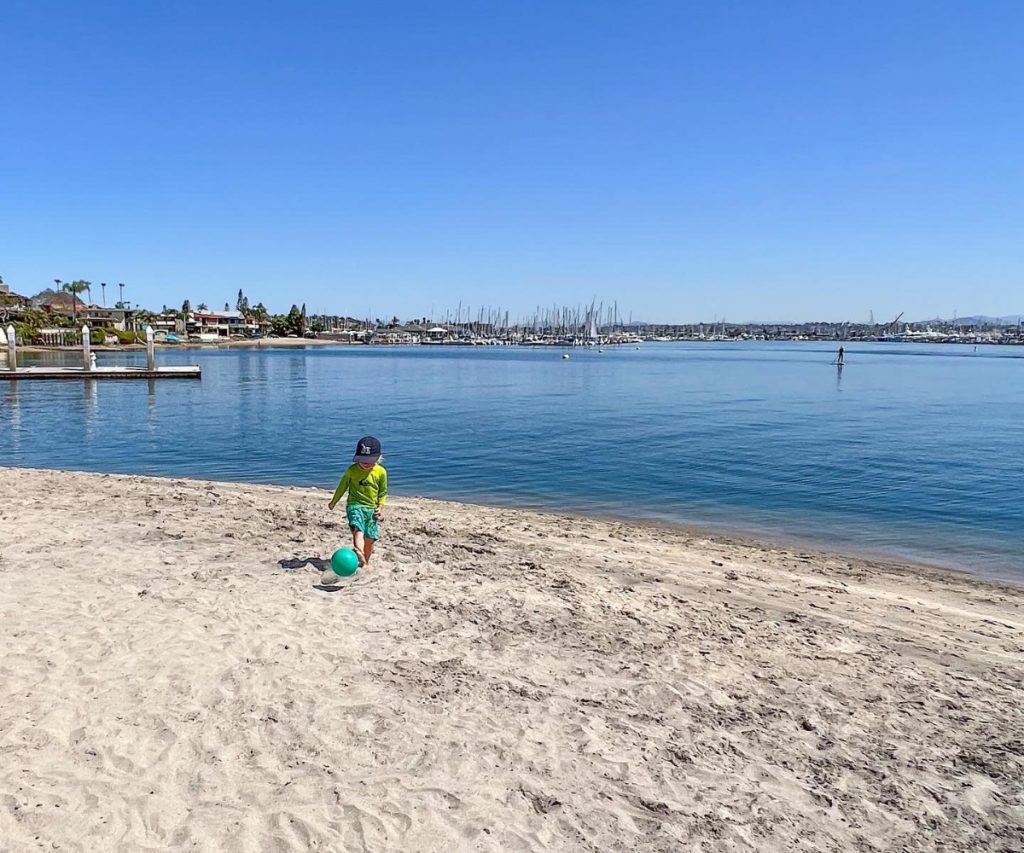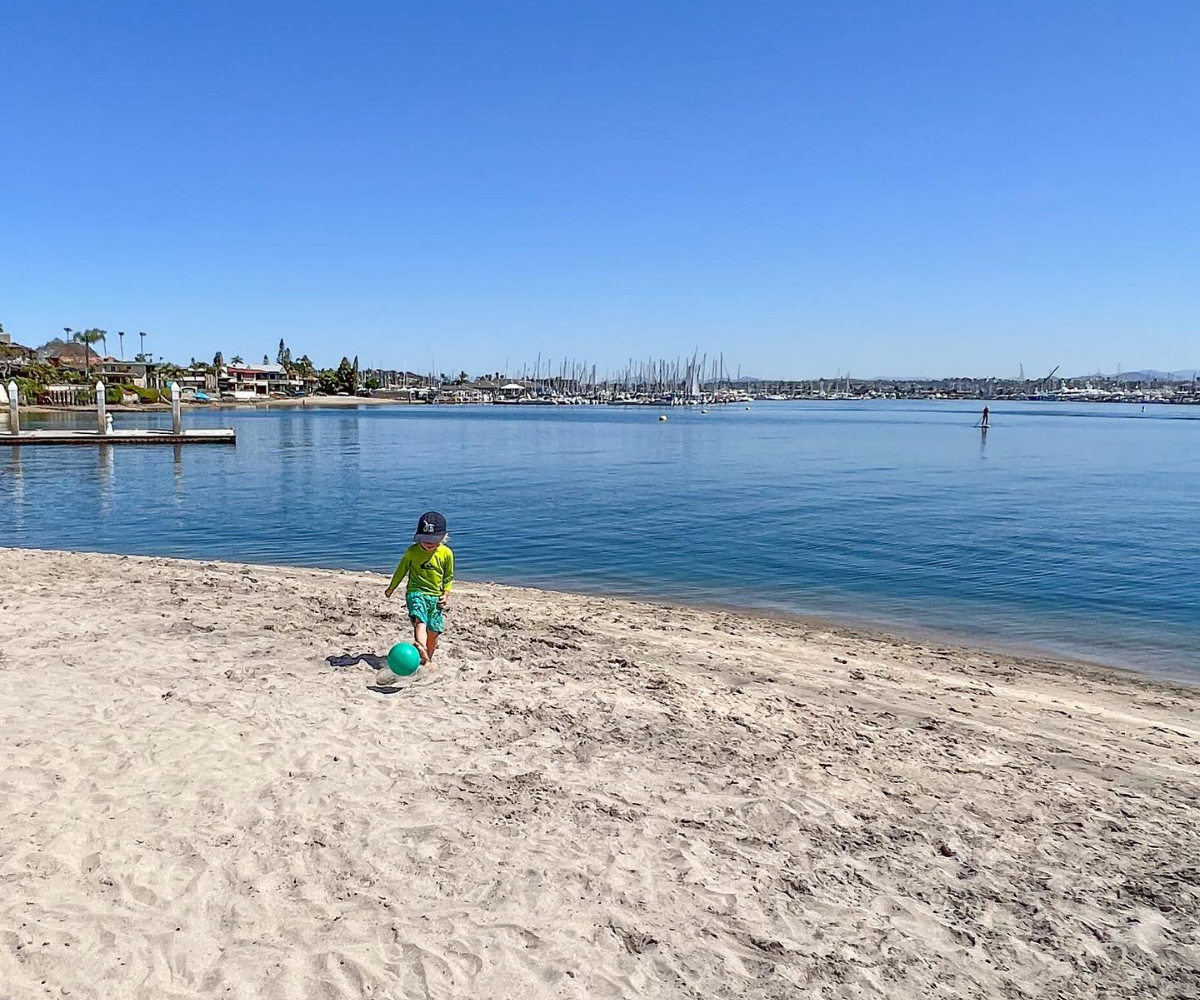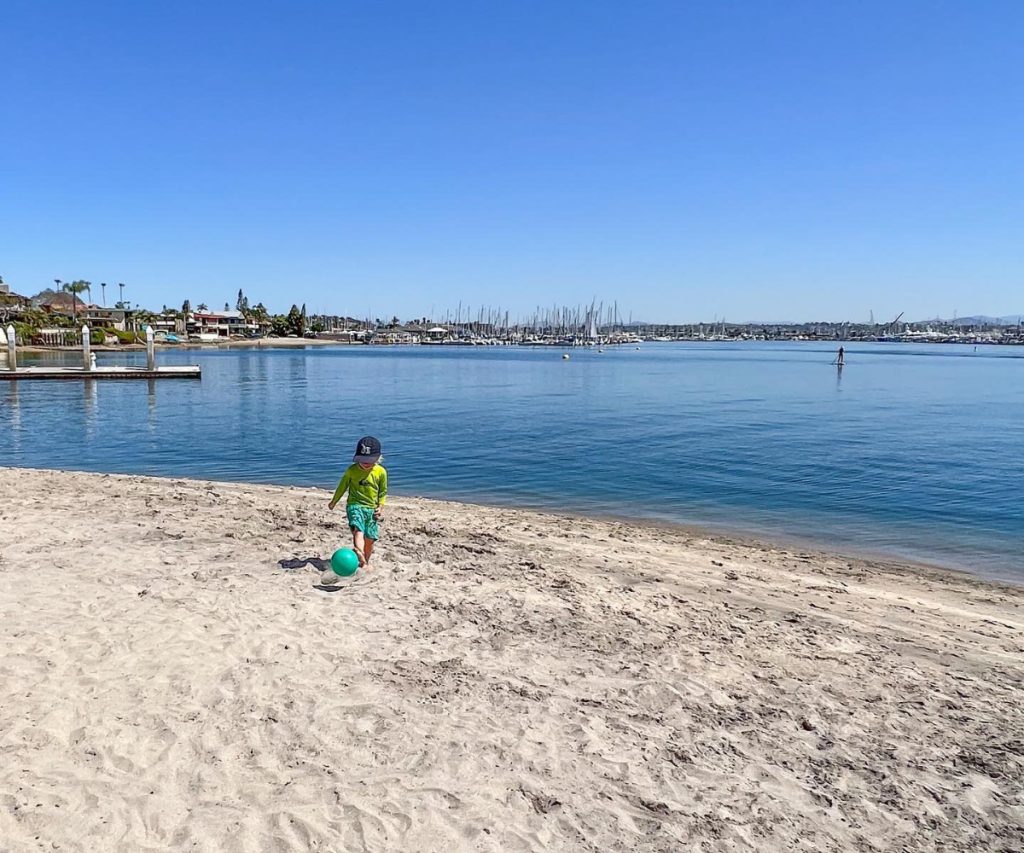 Tucked inside the southern "hook" of Shelter Island, not far from the entrance to San Diego Bay, is this gem of a beach that's popular with locals in the neighboring La Playa neighborhood of Point Loma. The cozy spot, only about two blocks long, is well protected from waves and wind, and offers plenty of sand for epic bouts of castle-building, as well as a gentle entrance to the water and great views of passing boat traffic. There are no public restrooms and parking is street-only, but shops and restaurants are a short drive away, as are public facilities on Shelter Island.
Ventura Cove/Sail Bay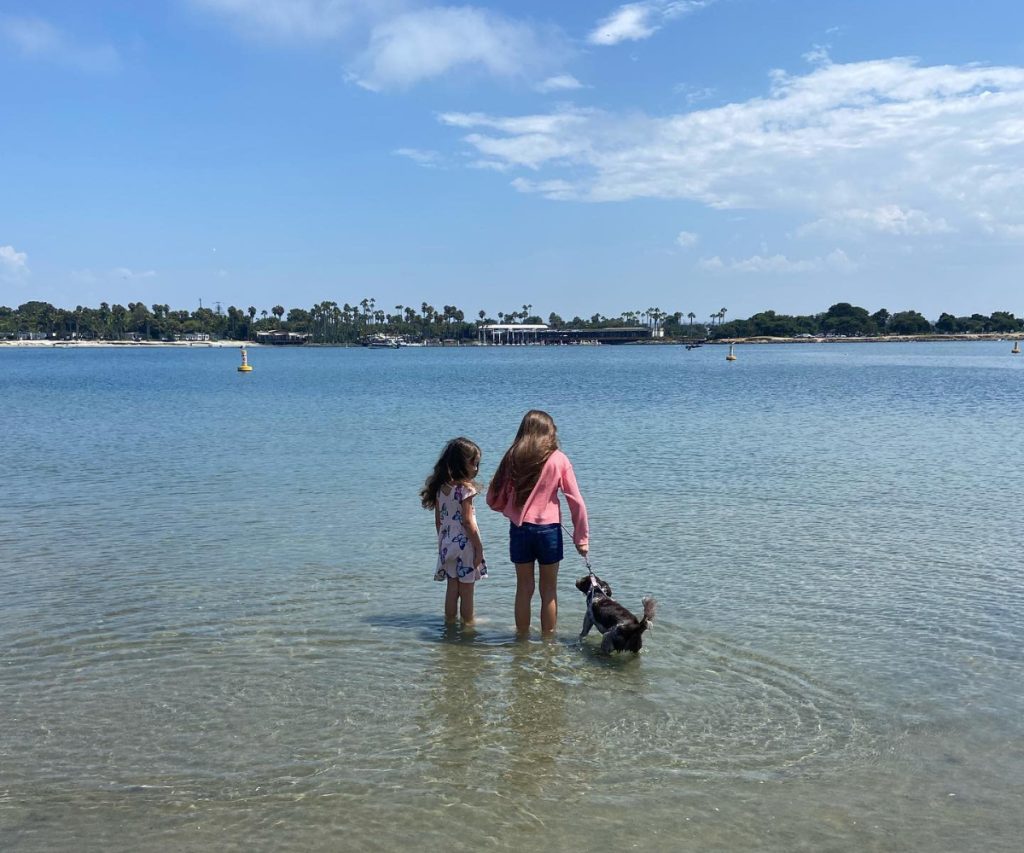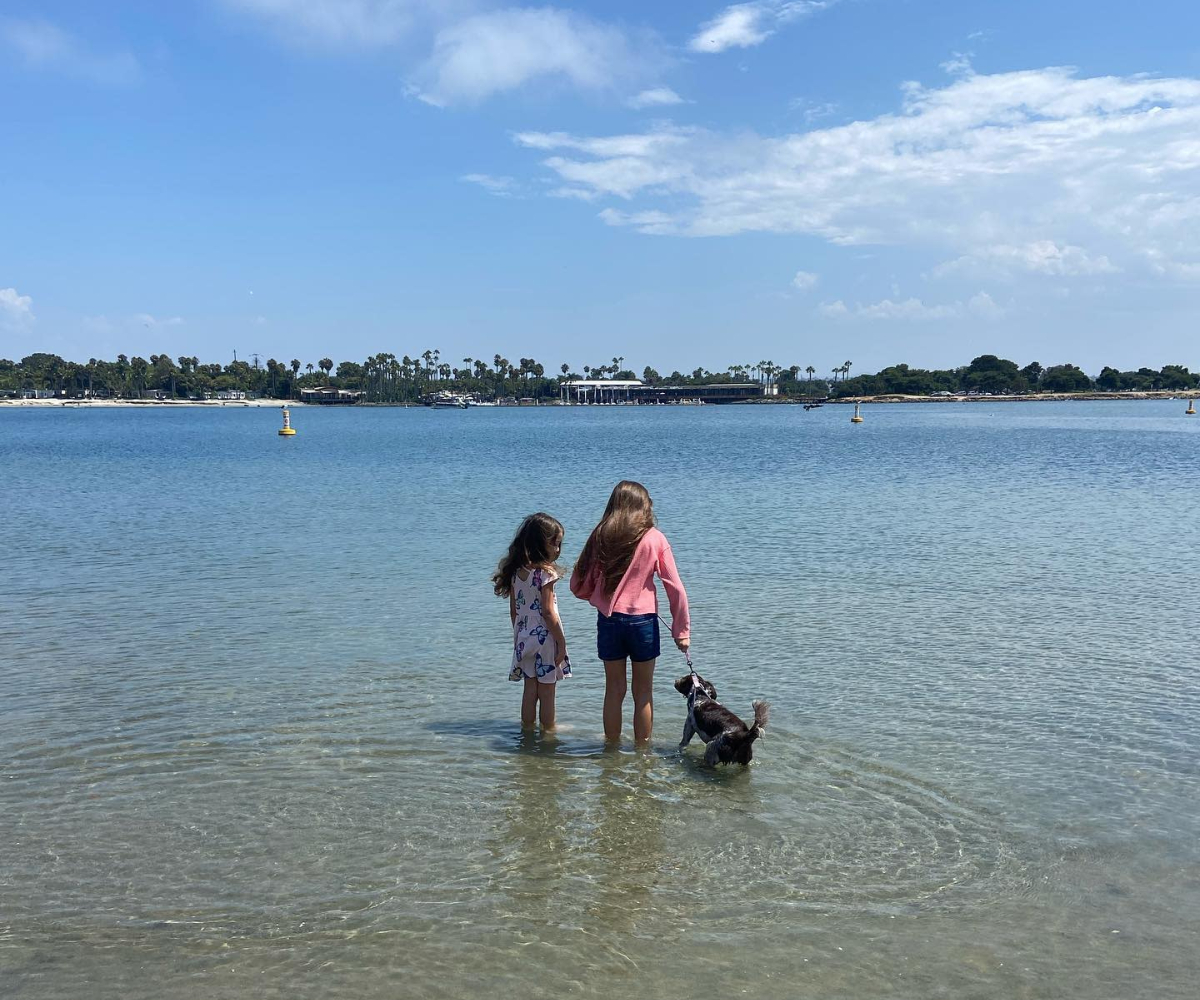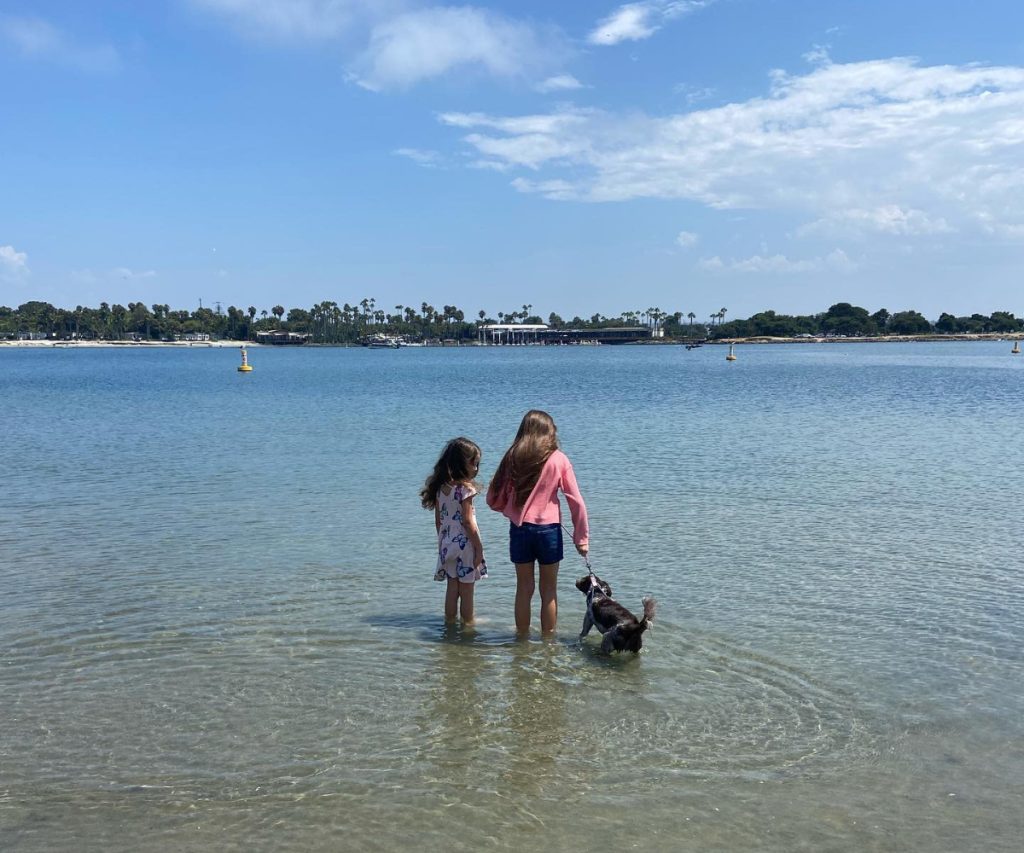 San Diego's Mission Bay is the largest aquatic playground of its kind in the world, and some of its finest beaches line the area known as Sail Bay along the western edge of this 4,600-acre park, whose waters are fed by the Pacific. Ventura Cove and Bahia Beach (next to the popular Bahia Resort Hotel) both offer fully protected shorelines as well as restrooms and other facilities, and are a quick walk from such visitor favorites as Belmont Park and the Mission Beach boardwalk. And the area near the beautiful Catamaran Resort Hotel & Spa just to the north offers likewise calm waters and an inviting strip of sand, with the ocean just a couple of blocks away.
Eastern Mission Bay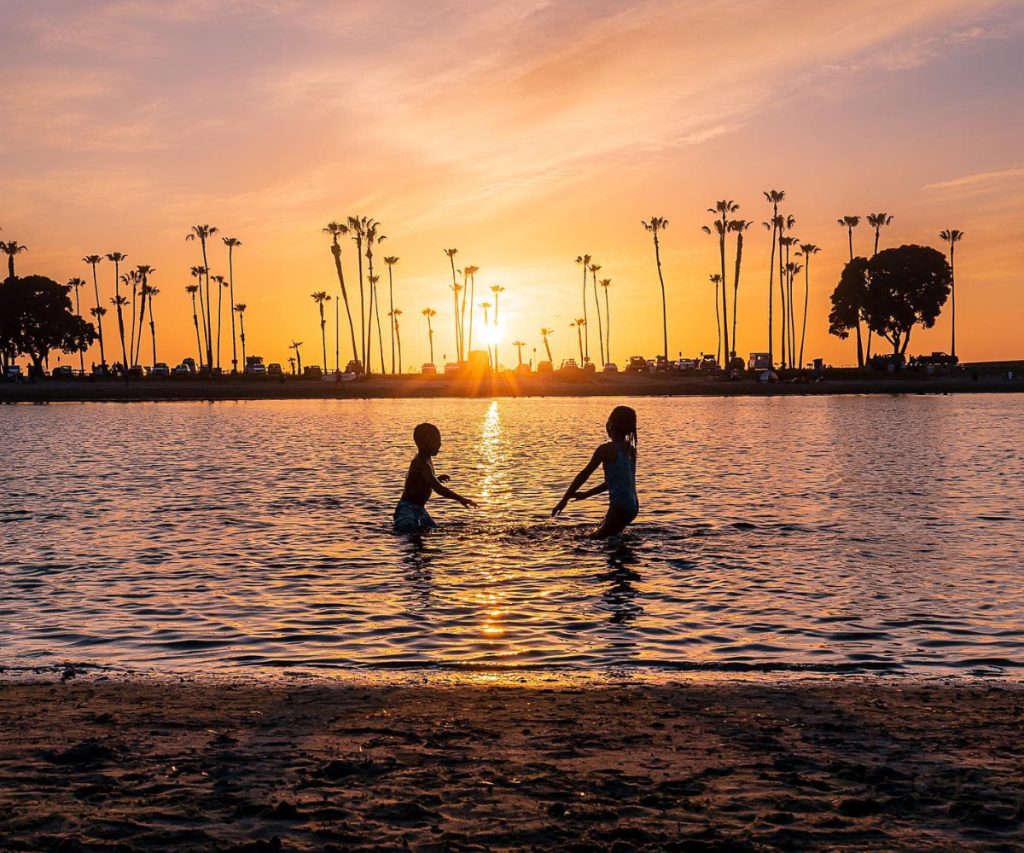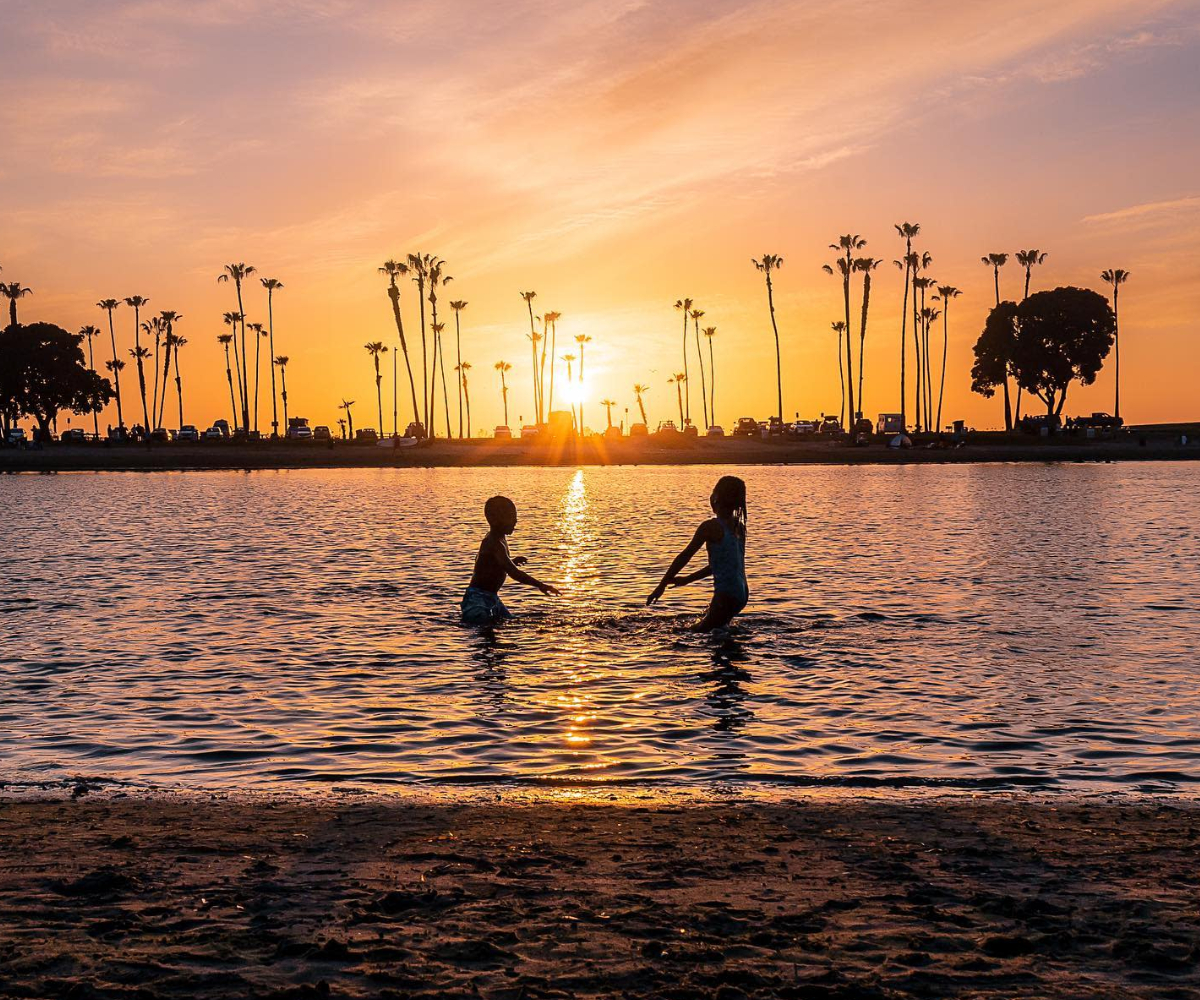 On the opposite side of Mission Bay from the Sail Bay area, a string of protected beaches offer just about everything youngsters and their families could want for a great day by the water. Tecolote Shores boasts a brand-new, interactive play area, a sandy shoreline and wide expanses of grass for picnicking or kite-flying, with public restrooms nearby. A little farther north is the San Diego Mission Bay Resort, which offers multiple restaurants and bars plus a bike and boat rental service next to the waterfront pathway that winds along the beautiful bayfront. An added bonus of beachgoing in this area is that it's quickly accessible from Interstate 5, and close to SeaWorld San Diego and other visitor favorites.
Coronado Ferry Landing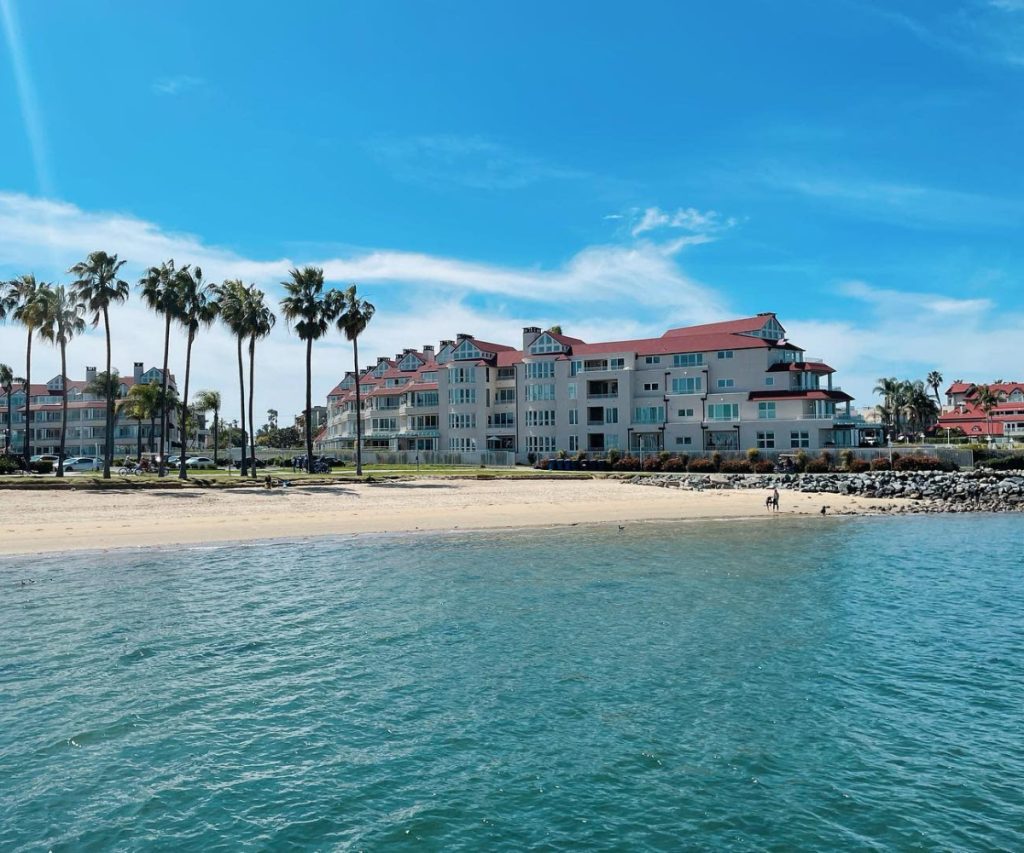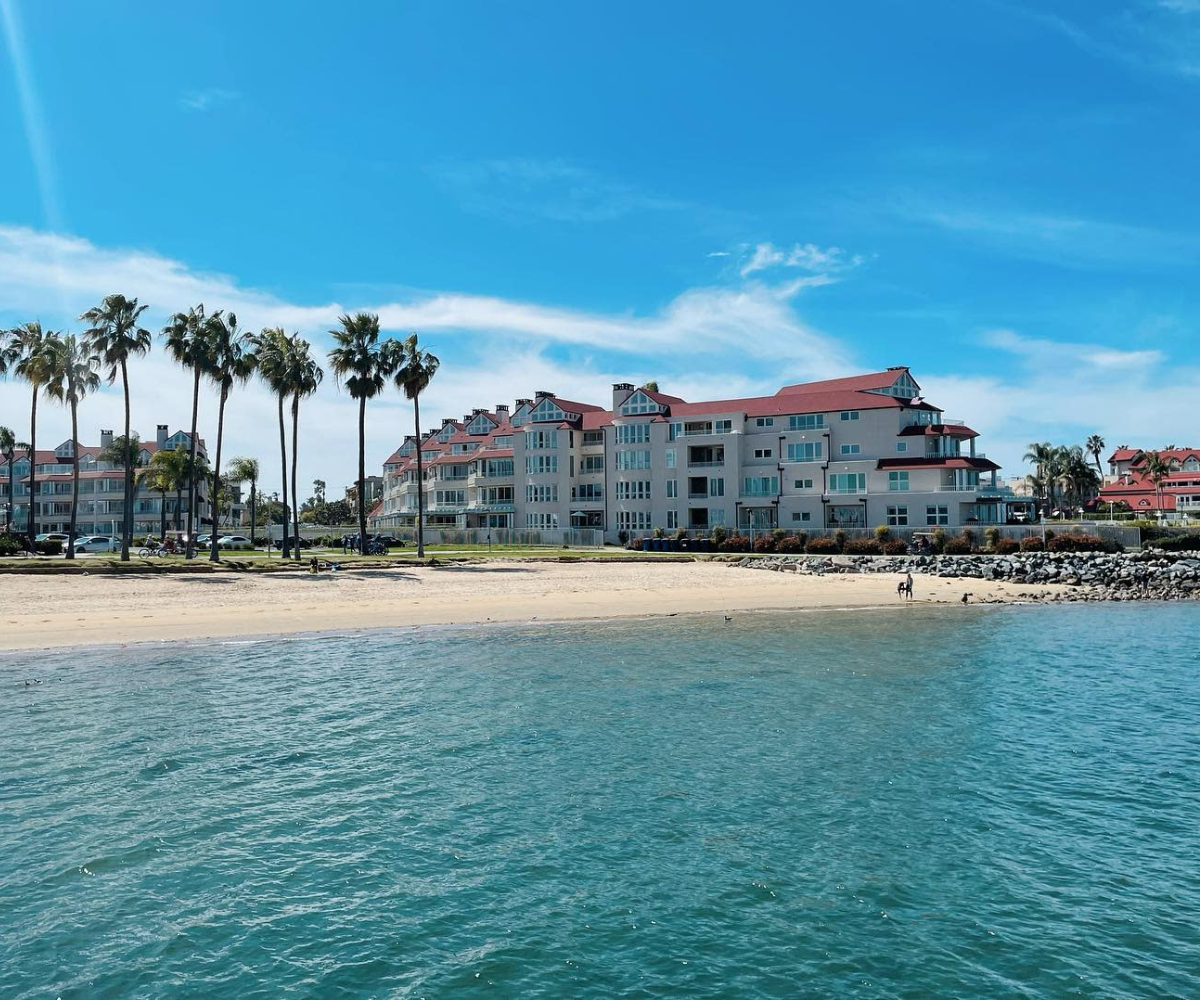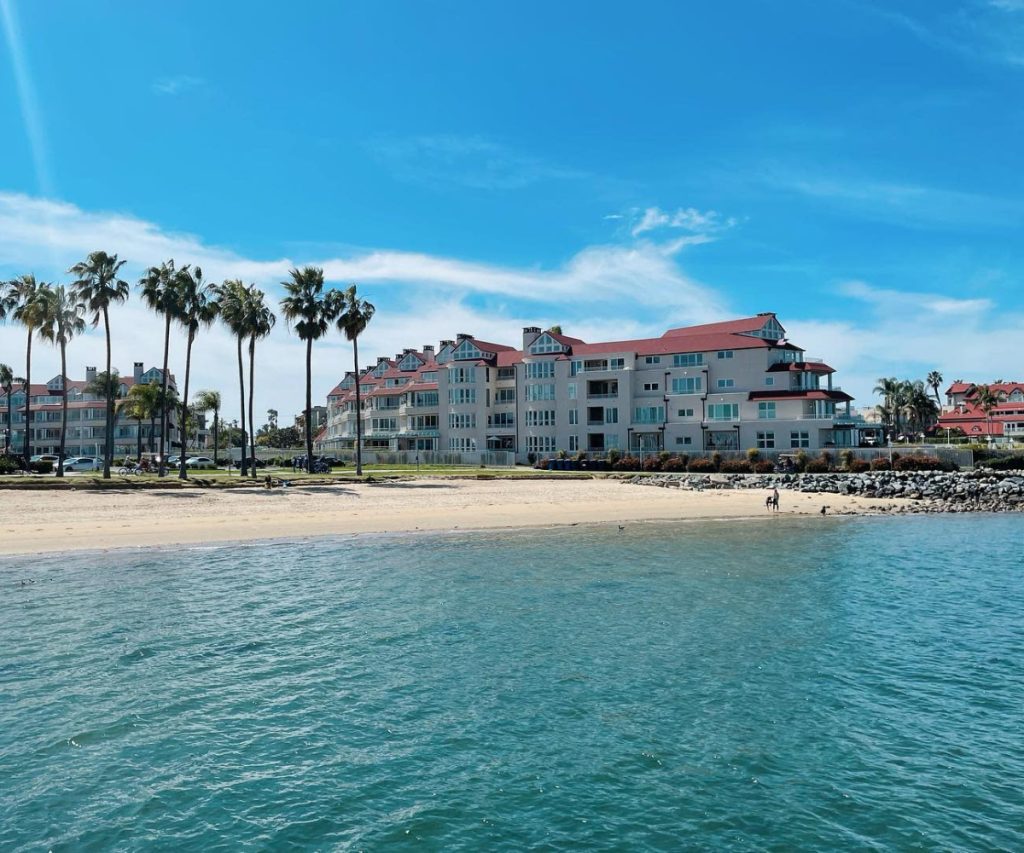 It would be hard to find a patch of sand anywhere in the world that matches Coronado Ferry Landing's beach for the sheer spectacular-ness of its skyline views. Nestled next to the dock where ferries drop off visitors in Coronado after the short ride from Downtown San Diego, the beach offers views straight across San Diego Bay to the city's towering skyscrapers and such likewise striking sights as the San Diego Symphony's Rady Shell at Jacobs Park. It's also a great spot for a family beach day, with numerous shops, restaurants, recreation rentals, parks, public restrooms and more just steps away from the sand.
Glorietta Bay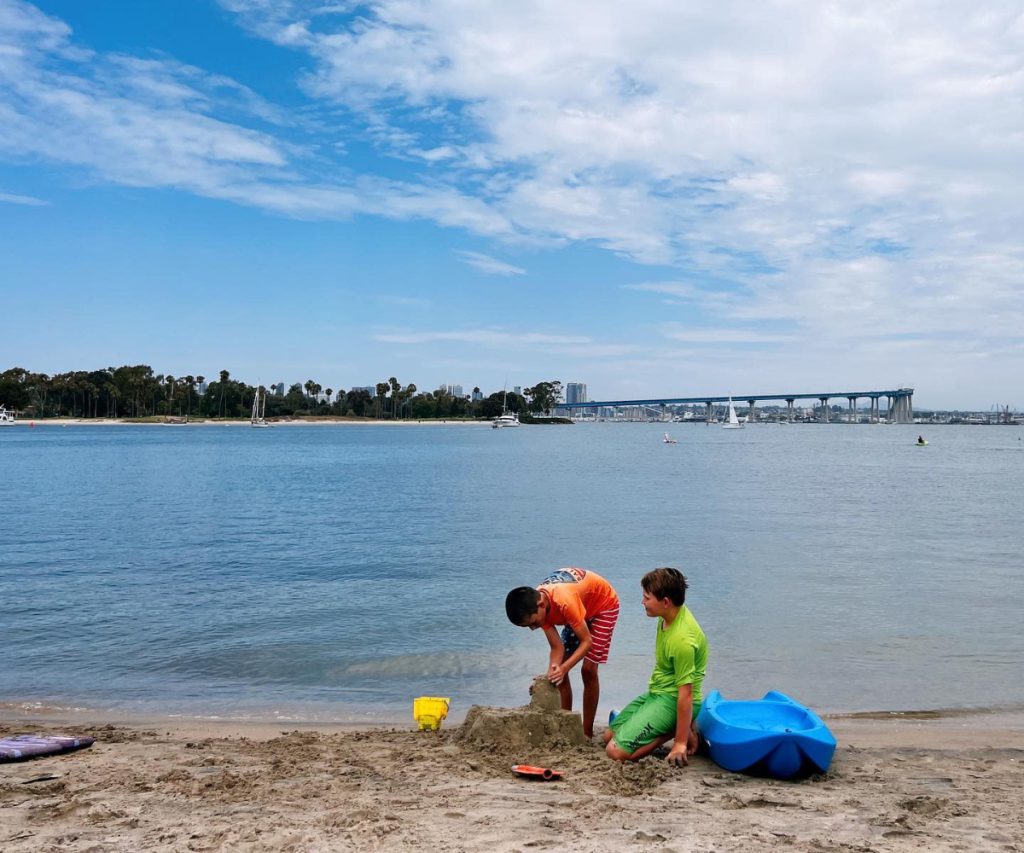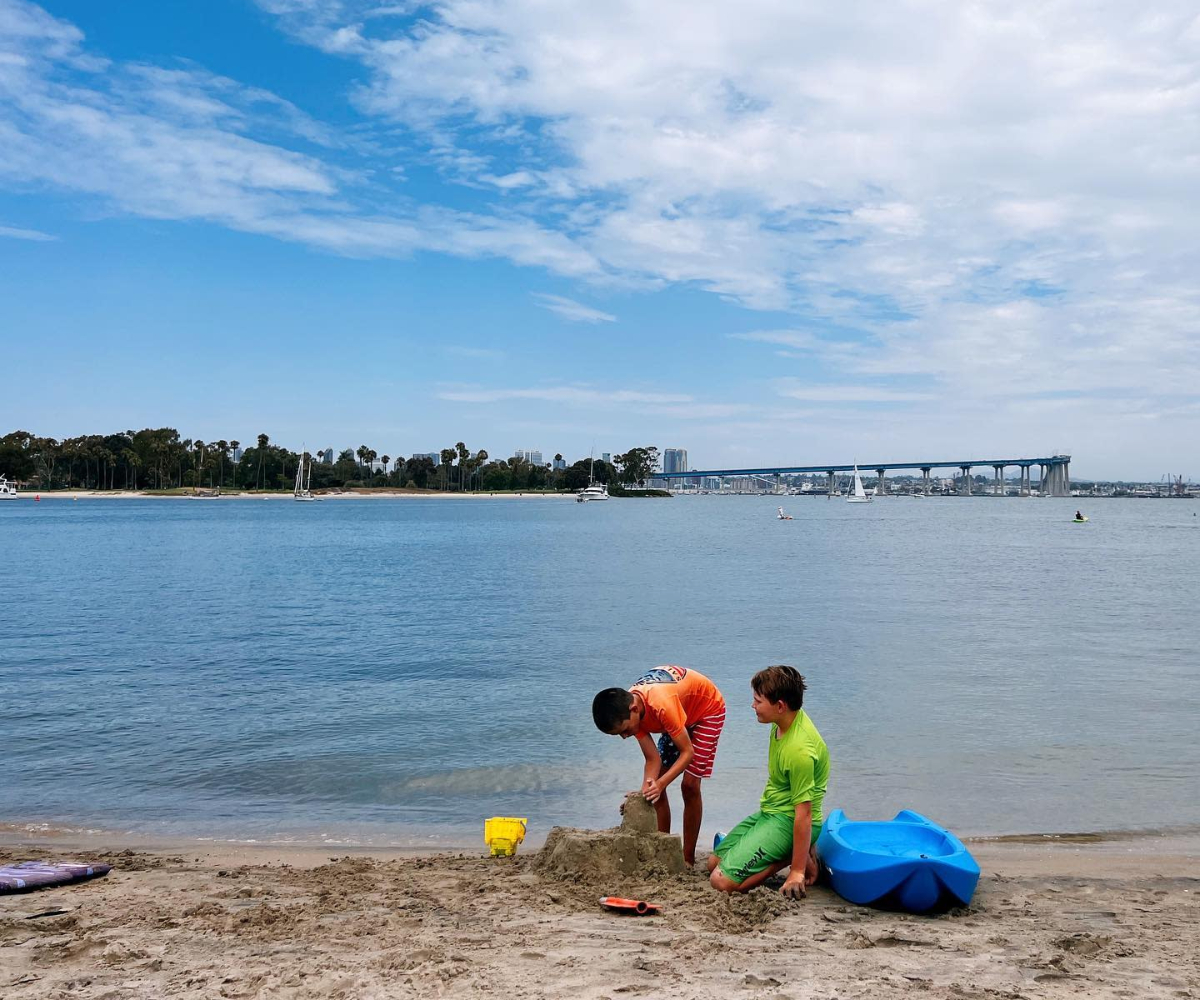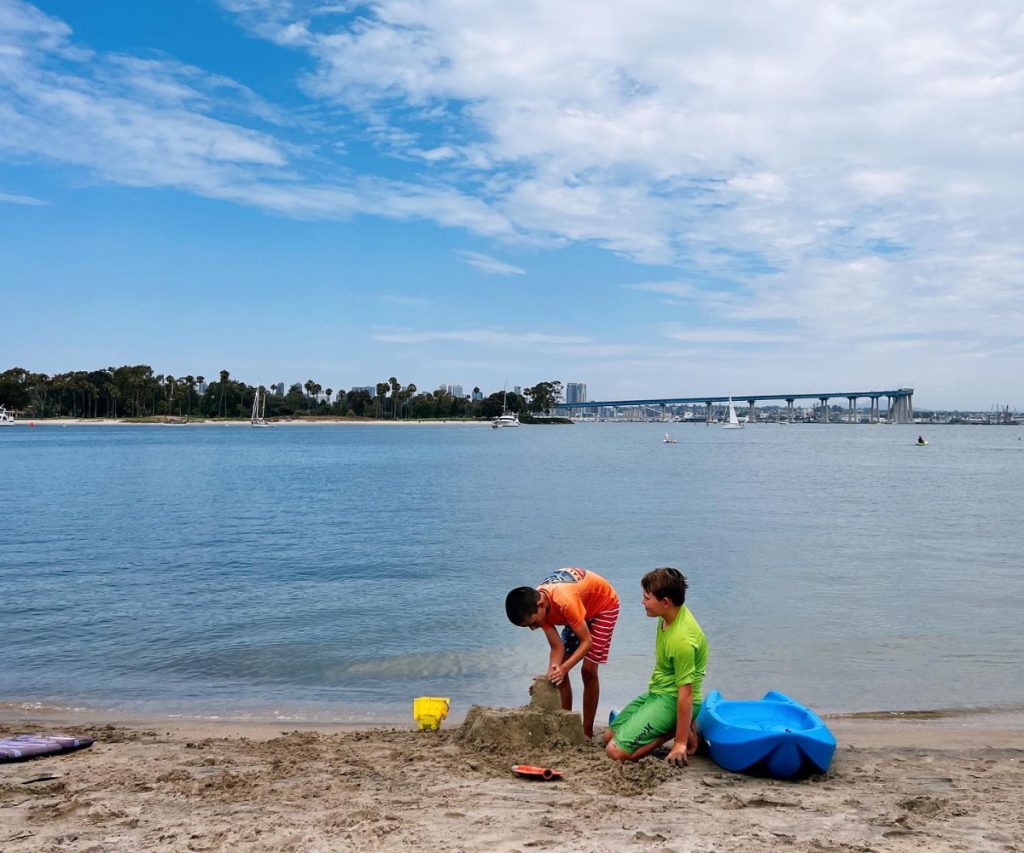 For a quieter family beach experience, be sure to check out Glorietta Bay Park Beach, located on the bay at the southern end of Coronado, just across the Silver Strand from the ocean. The views are beautiful and the amenities are plentiful at this nicely protected beach — including a playground, restrooms, picnic tables, a grassy area, showers, firepits, even a place to rent kayaks and stand-up paddleboards. (Parking is available on adjacent Strand Way.) The Bluewater Boathouse Seafood Grill is a short walk away, and a bit farther north is the grand Hotel del Coronado, a beloved San Diego landmark that's well worth a visit.
La Jolla Cove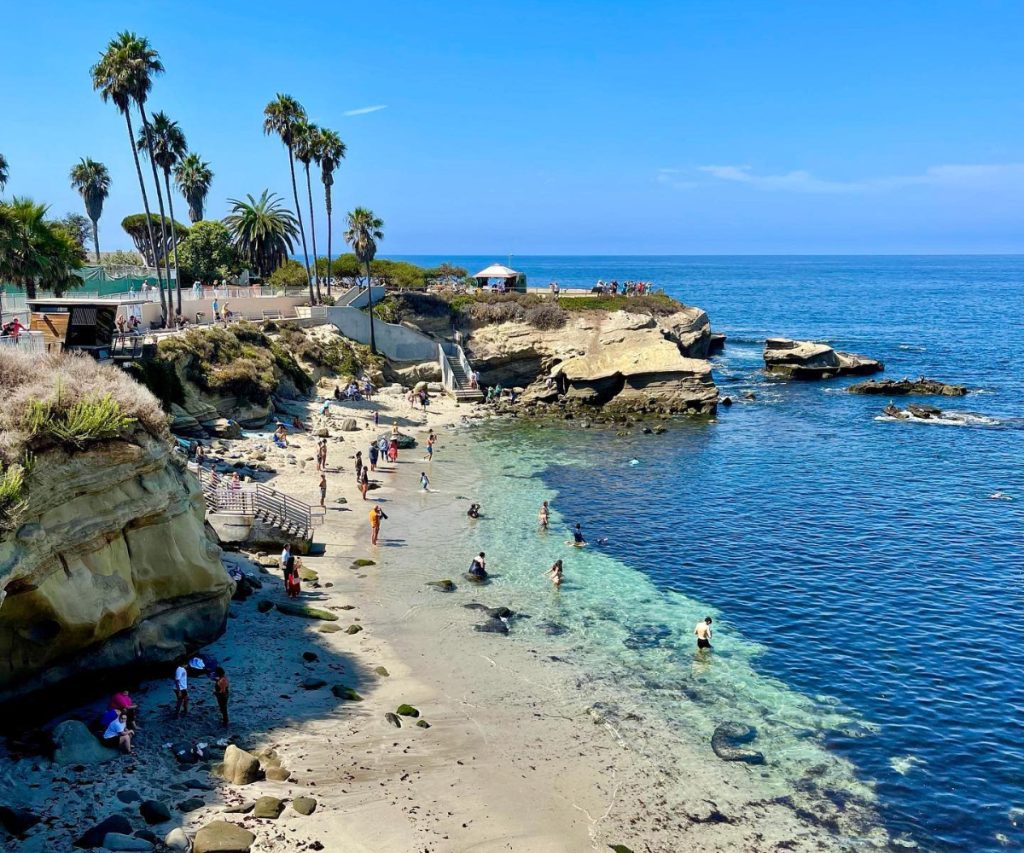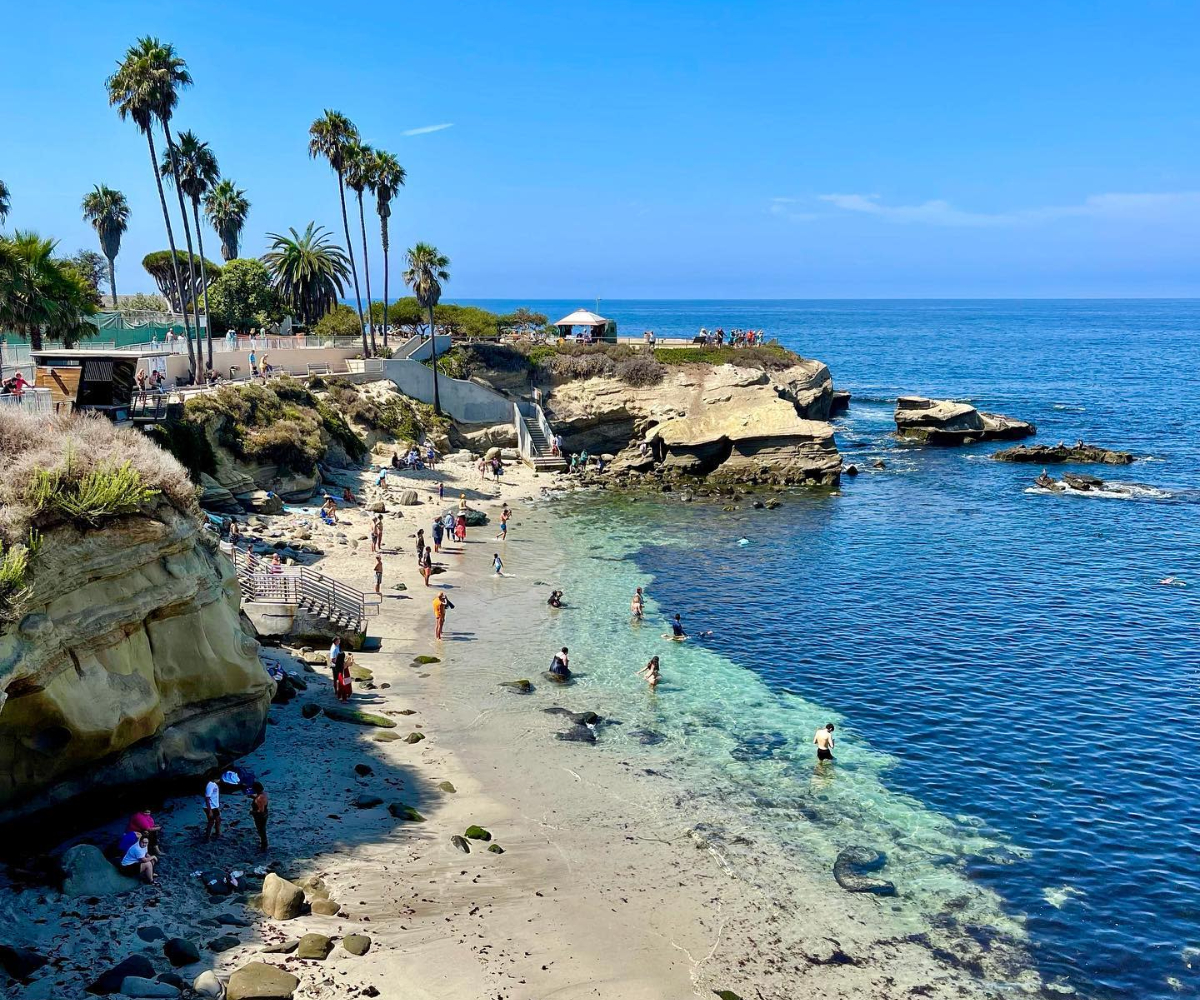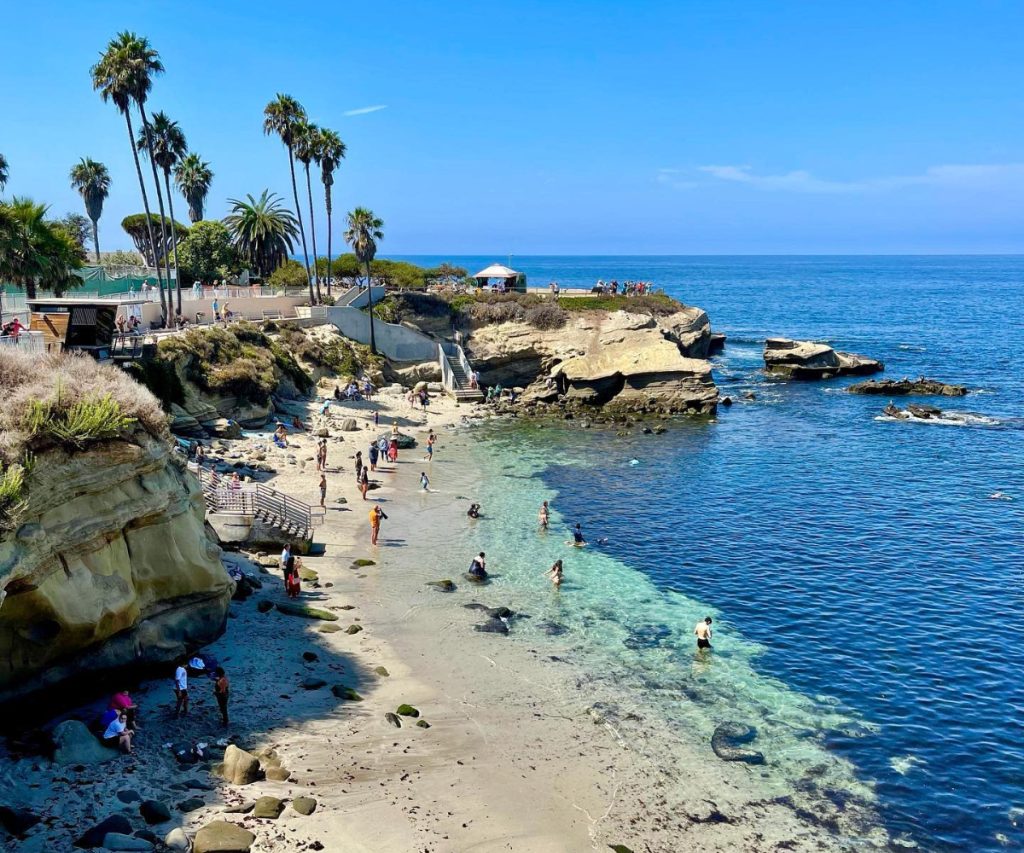 Ranked by TripAdvisor as one of the Top 10 beaches in the nation for 2023, the Cove is a justifiably famous jewel of a beach set into the dramatic sea bluffs of La Jolla. Although it's on the ocean, the Cove faces northeast and is tucked into a sharp bend in the coast, protecting it from most wave action. It's one of the most popular spots on the West Coast for snorkeling, particularly as it fronts what is known as the San Diego-La Jolla Underwater Park, a protected marine reserve. But it's also ideal for either bathing in the gentle waters or just sunbathing on the sand. (Note: The Cove can get very crowded in summer, and parking is limited on the surrounding streets.) There are public restrooms at the beach, and a grassy park above. And the rest of La Jolla — one of California's most beautiful seaside communities — offers a wealth of dining options, shopping, hotels and much more.
Carlsbad Lagoon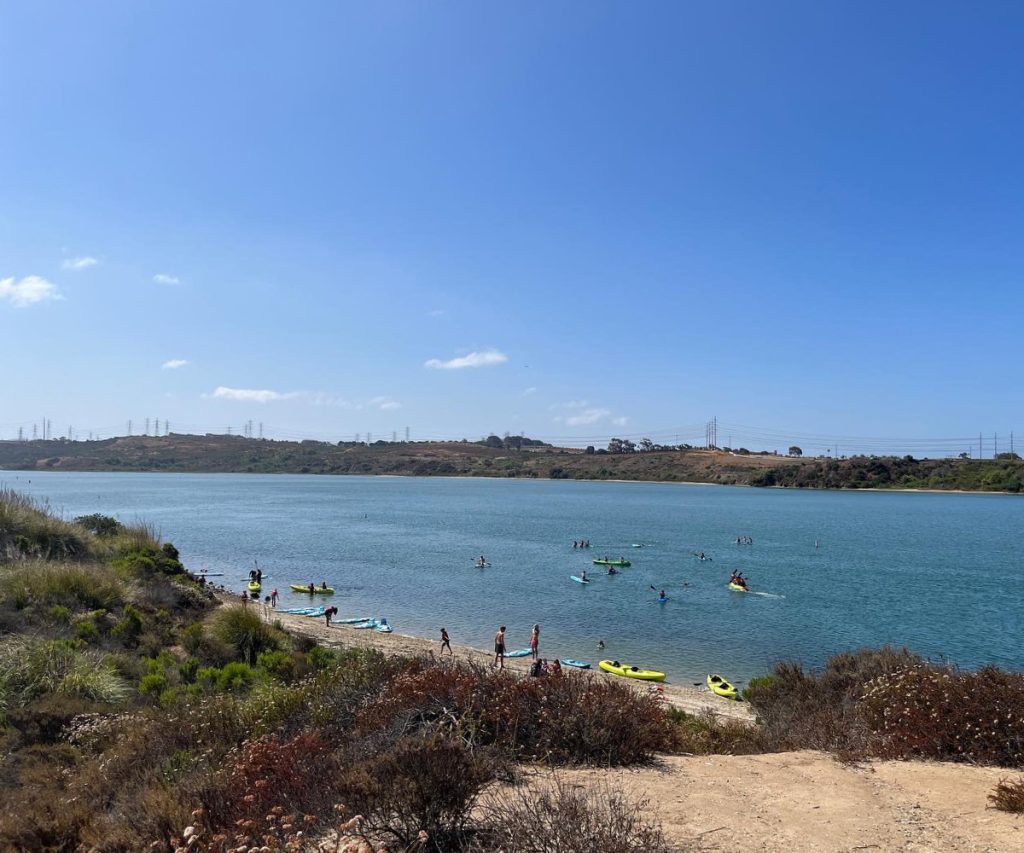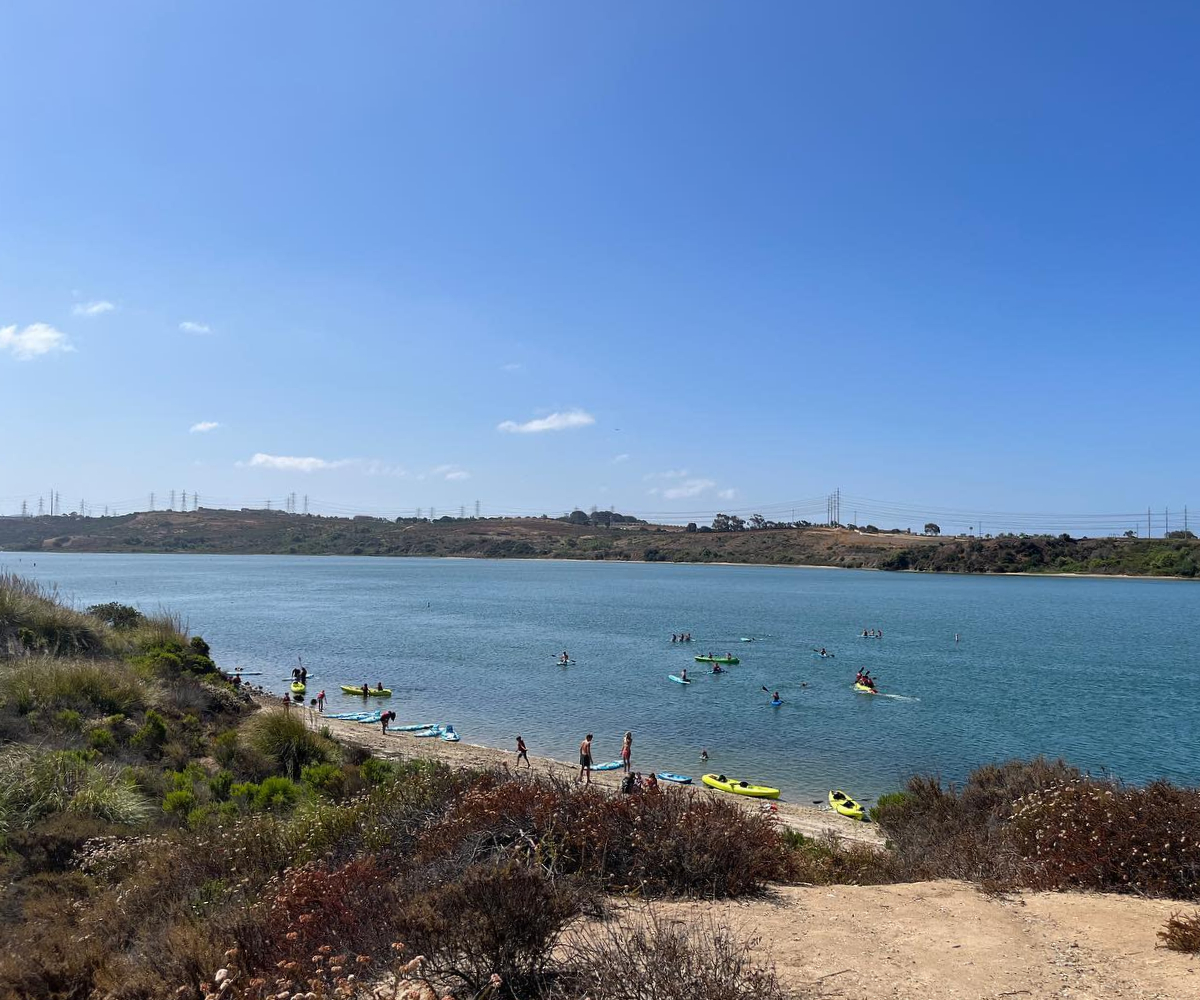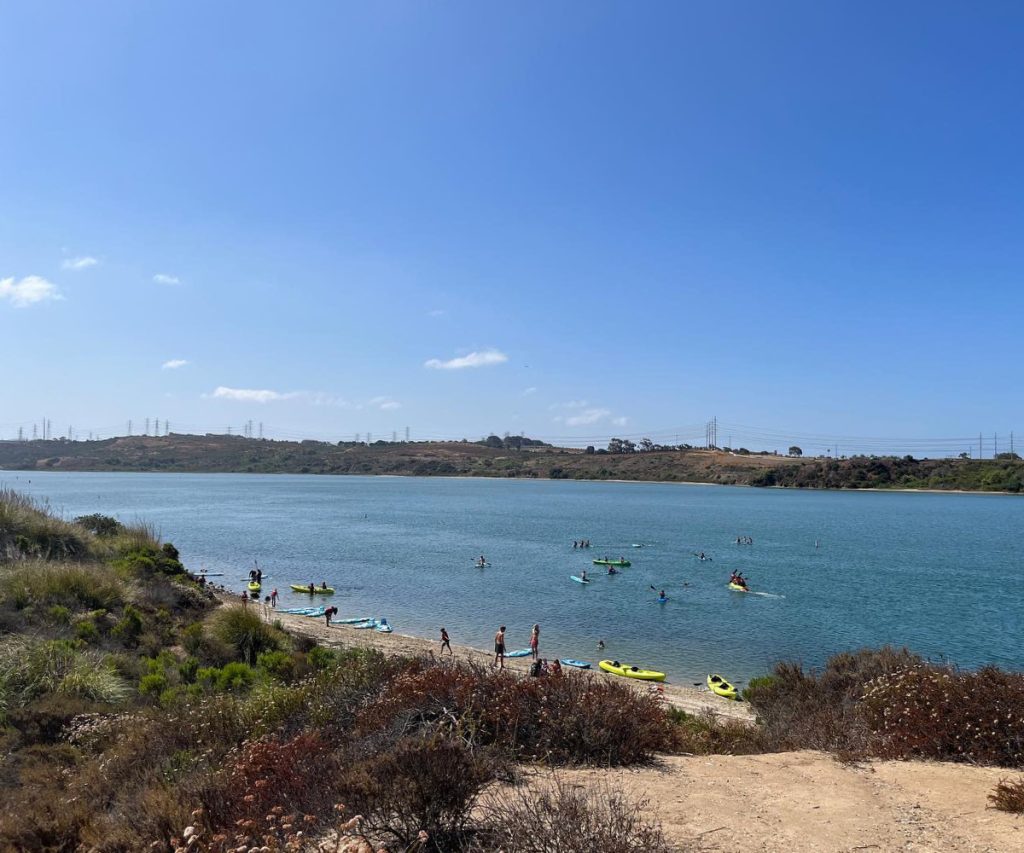 It might seem a surprising place to find a sandy, family-friendly beach, but right next to Interstate 5 at the Agua Hedionda Lagoon in the coastal North County community of Carlsbad is an inviting spot known as Snug Harbor. The location, about 25 miles north of Downtown San Diego (and less than 10 minutes from LEGOLAND California), includes a marina, kayak and boat/board rentals, picnic and party areas, restrooms and a cozy stretch of sand. While the lagoon is fed by the ocean, the waters here are completely protected and calm. To learn more about the lagoon's ecology, take the short drive to the Agua Hedionda Discovery Center, which offers interactive exhibits on local plants, wildlife and more.