Shooting some hoops is a great way to spend a day pretty much anyplace. And yet there's nothing quite like draining a 3 against the backdrop of a shimmering blue sea, or dribbling through the low post while enjoying postcard-perfect views of a San Diego beach.
Of course, the distraction factor is bound to be high when you play basketball at any one of San Diego's alluring waterfront courts. But the tradeoff is worth it for a chance to enjoy the perfect combination of fun activity and amazing scenery.
As San Diego gets set to host the inaugural Rady Children's Invitational basketball tournament — unfolding in November near the sea at UC San Diego — here's a look at five awesome area basketball courts where high-tops meet the high tide. 
Embarcadero Marina Park South
Location: 200 Marina Park Way, San Diego, CA 92101
Parking: Adjacent paid lot
The setting of these two city-run courts near Downtown San Diego should put a song in the heart of any hoops fan — and not just because the location is just steps away from the stunning Rady Shell at Jacobs Park, the outdoor home of the San Diego Symphony. The courts also are perched on a point surrounded by beautiful San Diego Bay, with views of the Coronado shoreline in one direction and San Diego's skyline on the other. And the San Diego Convention Center is just a quick walk away.
Mission Bay East
Location: 2688 East Mission Bay Drive, San Diego, CA 92109
Parking: Large, free adjacent lot
Mission Bay is one of San Diego's most celebrated recreation destinations, so it makes sense that this sprawling aquatic park would have great hoops options, too. The waterfront courts on the bay's east side are easily accessible from the I-5 freeway, and offer attractive views of De Anza Cove and beyond. And when you need a break from basketball action, stroll over to the Mission Bay Beach Club (located in the former Information Center) for coffee, sandwiches and relaxation.
Crown Point Park
Location: Near 3700 Crown Point Drive, San Diego, CA 92109
Parking: Large, free adjacent lot
Over on Mission Bay's western side is Crown Point Park, a gem of a waterfront site that offers broad expanses of grass and plenty of free parking. The twin courts here are just steps from the sand, and might make you feel as though you're shooting hoops on your own little island. Picnic tables and restrooms are nearby, as are the many food and drink options in the adjacent neighborhood of Pacific Beach.
Mission Beach
Location: South end of Oceanfront Walk, San Diego, CA 92109
Parking: Large, free lot just to the south
No less a basketball legend than San Diego's own Bill Walton helped inaugurate this oceanfront court, located at the southwest end of Mission Beach near the harbor-entrance jetty, and just off the scenic beach boardwalk. But you don't have to play like a Hall of Famer to enjoy the crash of the waves and the glimpses of the Pacific as you get your game on here.
Fletcher Cove Park
Location: 111 S. Sierra Ave., Solana Beach, CA 92075
Parking: Small, free public lot on-site; additional street parking nearby
North of San Diego in the cozy oceanfront community of Solana Beach is this pristine basketball court, opened in 2023 as part of a larger recreation hub. Fletcher Cove is one of the most popular beaches in San Diego's North County, and once you step onto the court you'll see why: The blufftop views of the sparkling sea are hard to beat, and you can be forgiven for missing a pass or two while contemplating the stunning setting.
Tournament Time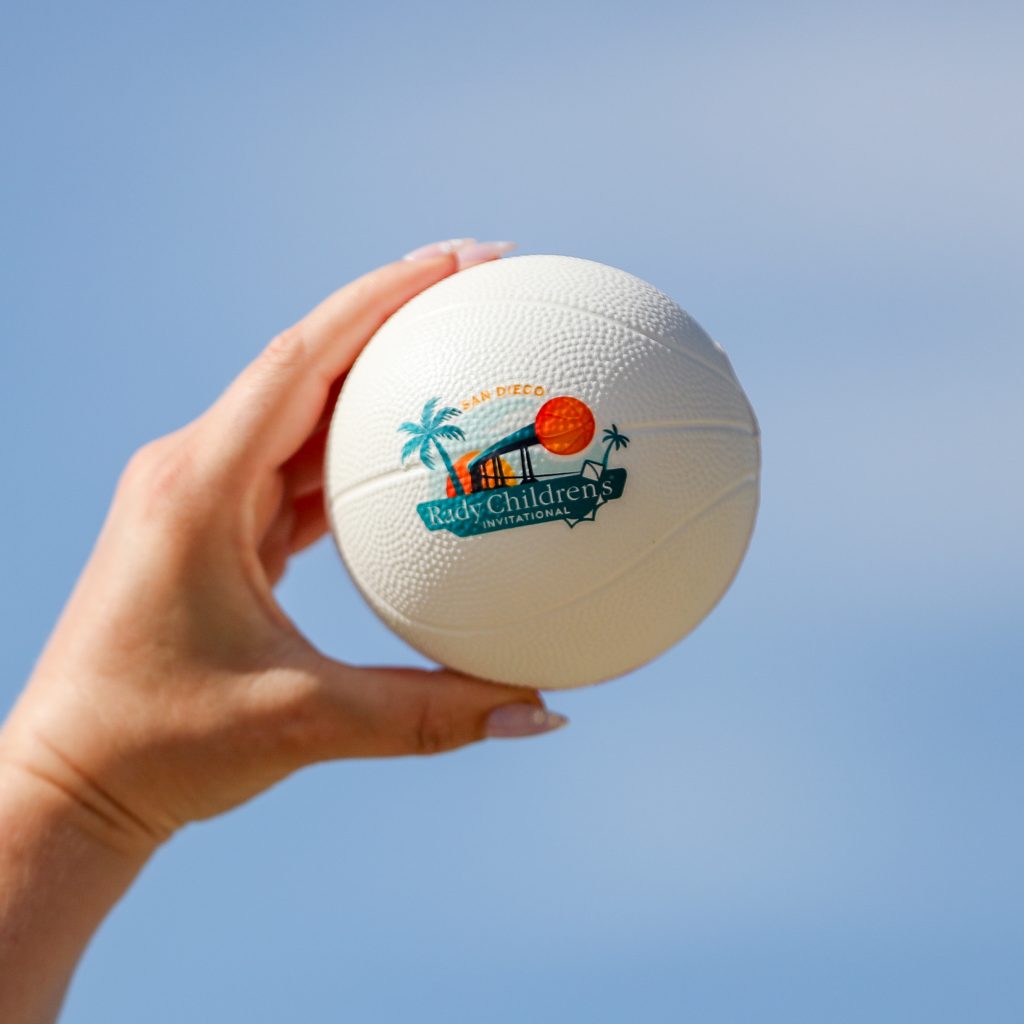 Once you've had a chance to indulge in some basketball stoke by playing at (or just reading about) these amazing courts, start making your plans to attend the first-ever Rady Children's Invitational, taking place over Thanksgiving weekend at LionTree Arena, 9730 Hopkins Drive on the UC San Diego campus.
The tournament field includes four elite teams from around the country: The Iowa Hawkeyes, USC Trojans, Seton Hall Pirates and Oklahoma Sooners.