Want to learn how you can get this up-close view of a giraffe?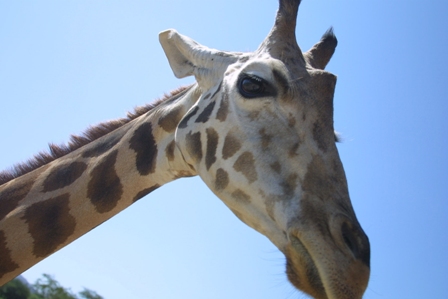 Then, listen up.  This week's Travel Like A Local radio show is all about the San Diego Zoo's Wild Animal Park up in Escondido. 
Special guests from the park share tips that will help you to make the most from a visit to this incredible 1,800 acre preserve where wild animals roam free over vast expanses – just as they would in their natural habitats in Africa and Asia.
We've told you about the new Flightline zip line ride that opened at the park a couple of times before on the blog.  That's hardly secret anymore. 
But, on the show, they dig into the new Dino Mountain exhibit that lets you step back in time to when dinosaurs ruled the earth with amazing animatronic dinos on display in the park's conifer forest.  They also talk about the Photo Caravan – where you'll get up-close with giraffes, rhinos and more – and the new Rolling Safari off-road segway tours that let you go deeper into the park and closer to the animals than ever before.
All this and much, much more from the Wild Animal Park on this week's Travel Like A Local.