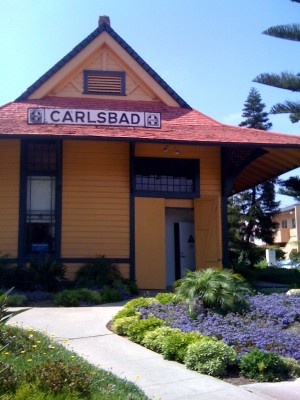 I thought I did.  Legos, flowers, strawberries and surfing, right?
Actually, yes.  But there's so much more!
On a recent visit, I found out there's also a charming, walkable downtown full of cute shops, an awesome slice of Hollywood history meets hacienda, a museum dedicated to rocking out (debuting the first ever MOOG exhibit on Aug. 29) and a thriving, dare-I-say urban, theater scene.  
During my explorations, I got to meet Kristianne Kurner, actor, director, producer and one of the founders of the New Village Arts Theater (yep, I feel like an underachiever!), located just steps from the Coaster stop in downtown Carlsbad, and I was totally charmed by both her and the 99-seat theater. 
When I was there, NVA's professional ensemble was busy rehearsing and just about to open their Summer Comedy Festival (running through Aug. 16) but they were kind enough to give me a backstage tour of the show and their brand-new on-site art studios.  
Run by world-class artists (Kristianne and the other founders are alums of The Actors Studio – yes, that one), NVA has been producing critically-acclaimed plays for 8 seasons up in Carlsbad and they're just about to kick off season 9 with a couple of regional premieres, some Tennessee Williams, a Pulitzer Prize winner and a smart comedy by none other than The Jerk (I love that he's a writer!) about Picasso and Einstein in Belle Epoque Paris.
I thought I knew Carlsbad but turns out, it's full of surprises.  If you head up there, I'd recommend stopping at their visitor center (in the gorgeous, historic Santa Fe train depot) and letting them point you in the right direction.