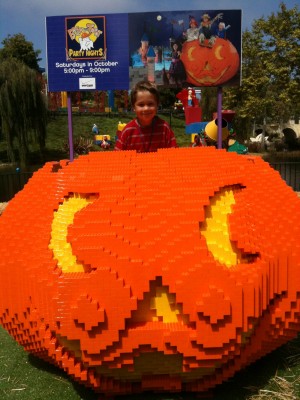 There is a place in San Diego I have been to many, many times. It's a place we go when we have friends and family visit. We go when the weather is nice and we go when the weather isn't so nice. We go during the holidays, on weekends, weekdays and even for a field trip. It is simply one of my son's favorite places – Legoland. He's 7 and like most boys his age; he LOVES Legos. This weekend, my daughter wasn't feeling well, so she stayed home with dad and Brett had Legoland to himself (or at least I think he felt that way). So what's a boy to do when he doesn't have to share Legoland with his sister or family? Have fun!
We started with the Coast Cruise ride, which surprised me because it is usually the first ride we take newcomers on. The leisurely boat ride takes you "around the world" as you see famous monuments made from Legos. The Sydney Opera House, Taj Mahal, and Eifel Tower are all on display. Next we headed to Miniland. We could spend forever here checking out the amazing recreations of American cities. During the Halloween season, Legoland will have many of the Lego people dressed up in costume. You can also find an apple bopping party, a kids costume party and other fun Halloween related events.
During this trip, we rode some of Brett's favorite rides, The Dragon, Lost Kingdom Adventure, and Coastersaurus. After lunch, Brett got his driver's license at the Volvo Driving School. You can even have your picture taken and made into a "real" license. At the end of our day, nothing would be complete without stopping by The Big Shop and looking at all the new Lego toys.
Be sure to check out Legoland Saturdays in October for their Brick-or-Treat Celebration. I know we will be there!