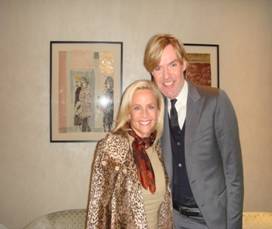 I recently had the opportunity to sit down and interview the amazing Ken Downing, Senior Vice President & Fashion Director of all Neiman Marcus stores, on defining the fashion of San Diego. I then proceeded to watch his pure talent of the styling for the Spring Trends 2011 for Neiman Marcus. What a genuine inspirational fashion guru. Loved him!
With having 1/3 of all visitors to San Diego include shopping on their activity list, how do you see San Diego with regards to accessibility to fashion choices?
Very accessible, I cater to the women who love fashion no matter where they are located. With 70-80% of Neiman Marcus's located within the Sunbelt fashion choices fit a sunny outdoor lifestyle. Every woman should also have pieces that can fit the motto of "Coffee to Cocktails"!
How would you define San Diego's style?
Casual Luxe.
Do you have the Neiman Marcus Buyer's buy differently for San Diego and if so how and what items?
Yes, since San Diego has some wonderful weather [and] the clothing is weather driven with lightweight fabrics, lots of color i.e. coral for Spring. It is all about how the natural sunlight catches the color. There is also an emphasis on layering for our climate to start off with more but take off pieces as the day and sunshine progresses.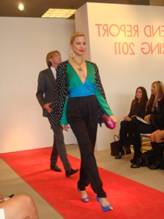 What do you see are the current trends in swimwear?
Toe-Tippers not Do-Dippers! Showcasing beautiful swimwear, hats, caftans and cover-ups. For the more sporty type who prefer to do laps, performance swimsuits fit the look.
What do you think of when someone says "Action Sports" with regards to clothing?
A sporty chic look like someone who just finished with yoga and went straight out to achieve their daily events like errands or meeting someone for lunch, still looking chic.
Do you see the "Action Sportswear" market changing or growing?
Definitely growing and San Diego is the perfect place to do this because of the moderate climate and outdoor activities!  Neiman Marcus actually carries a section for just this type of demand. [They carry their own label called NM which has a comfortable relaxed yet current sportswear feel to it. Jackets can be cinched to create a hoodie effect but let out to showcase more of a shawl collar effect. The fabrics are lightweight and breathe easily.]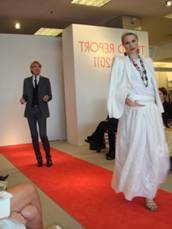 What is your favorite thing to do while visiting San Diego? Place to stay?
Too short of a visit this time to play! I stayed at US Grant Hotel and loved the history of it.
Define what "personal style means to you?"
Confidence.
What is your favorite vacation spot?
Home! I travel so much all over the world, all of the time, that I prefer to relax at home in Dallas renovating my 1970's lake home.
Favorite drink?
Water and sushi although not together:), occasionally a Belvedere dirty martini with lots of olives!