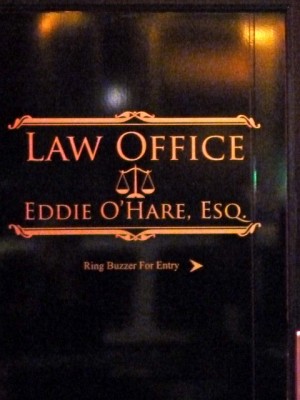 A girlfriend and I were recently on Fifth Avenue in the heart of Gaslamp Quarter looking for a bar. Actually, we were surrounded by bars – throbbing music, dancing disco lights and crowds of pretty party people.
But we were looking for a secret place, a prohibition-style underground speakeasy. We had an address. Finally, we found it above a nondescript door that read "Law Office – Eddie O'Hare Esq." We rang the buzzer.
A beefy dark-haired guy in a black jacket opened the door a crack. "Can I help you?" he asked.
My friend flashed the personalized e-tickets we'd printed out earlier in the day. "We're on the guest list," she added. Beefy nodded, opened the door a few inches wider and motioned us inside.
Feeling bootlegger cool, we headed down red carpeted stairs, banked by red walls, to the basement-level Prohibition lounge. Red lighting infused the scene with an edgy risqué feel. Steamboat Willie and other late '20s era cartoon characters silently cavorted on flatscreen TVs. A slick jazz trio performed prohibition era tunes on a small stage; nobody danced. Music was loud enough to evoke vibe, but not so loud it competed with conversation.
There were maybe 40 people inside – in a wide range of ages. No scruffy t-shirts or running shoes – but few designer labels, either. Men behaved, per house rules that prohibit "unsolicited advances on female patrons." The setting was comfortable, conducive to easy mingling.
Prohibition is about rediscovering (and reinventing) premium hand-made cocktails. Patrons crowded around the bar for a ringside show. Mixologist Levi Walker had the finesse of a 5-star chef as he constructed my pisco sour. There's not a blender in sight here. When Walker finished hand shaking my cocktail, he added a dash of Amargo Chuncho to the foamy top. "Real Peruvian bitters," he explained. "It's made from barks, roots and flowers that grow in the Amazon. You can't make a real pisco sour without it."
Next, Walker dropped a straw into the concoction, keeping a finger over the sipping end to withdraw a taste of the drink. He took the taste, nodded approval, then served me his masterpiece. Exquisite. The straw-tasting was a routine repeated after each cocktail he mixed.
OK, so service may be a little slower here than in most Gaslamp bars – but fine art takes time. Most cocktails run around $12.
Prohibition is open from 7:00 pm  until 2:00 am Thursdays through Saturdays. Find it at 548 Fifth Ave. Before you can get in, you'll have to get on the speakeasy's guest list. To do that, go to the bar's Website: www.ProhibitionSD.com. Click on "Guest List" and register. Occupancy is limited, so it's wise to reserve in advance. Admission is free.