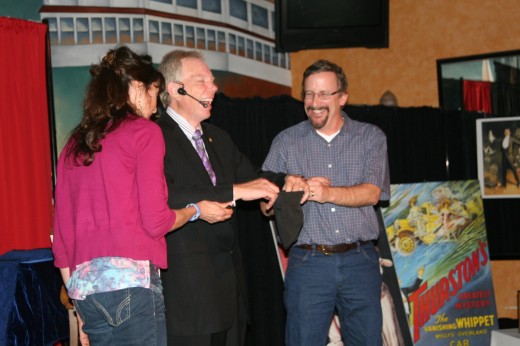 For years, it was known as one of the happening spots. Every week, people from all over San Diego would pack The Magic Lounge – a cool, magic themed bar where employees would pull double duty as bartenders and magicians. Eventually the place shut down but now, that same core group of magicians who performed some thirty years ago at the Magic Lounge, are back. This time, they're entertaining crowds at the new Magic Lounge at the On Broadway in the Gaslamp Quarter.
According to Magician Terry Lunceford, the deal was in the works for months and finally came to fruition in January. The magic shows are held at 8:00 pm on the first Friday of the month and feature local magicians Mike Stilwell, Joe Mystic, Terry Lunceford and other guest performers. It's a nice mix of close-up magic and a stand-up show. "Performing in San Diego is absolutely amazing. Every day, I get up and think about how I get to do magic. It's an awesome feeling," Lunceford said.
Although the show is relatively new, it's definitely gaining momentum. "It was standing room only at our last show," Lunceford said. David Pease has seen the show twice and says he can't wait to go back. "It's a wonderful break from reality. The show is fresh and always changing. It's top notch entertainment for only ten dollars per person," Pease said.
One tip – if you want a good seat, come at six when the doors open because it does fill up fast.
This post was written by Darlynne Menkin. Darlynne is a co-owner of Where You Want To Be Tours. Their tours and teambuilding scavenger hunts feature areas that are unique and off-the-beaten path!