The Southern California exclusive showing of Cirque du Soleil's TOTEM is coming to the Del Mar Fairgrounds from April 26 to May 13, 2012 and we want to send you and a friend! TOTEM guides you on a fascinating journey into the evolution of mankind with death-defying acrobatics, grace and laughter. It is the circus, after all!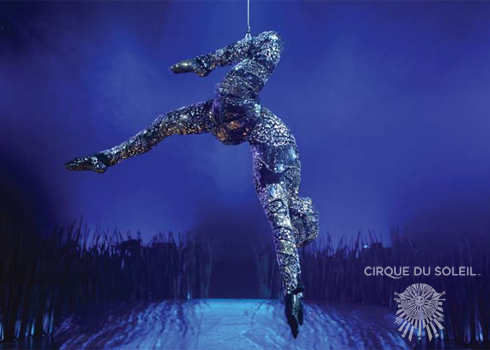 But the Crystal Man is no laughing matter. Elton John might love to get his hands on the velvet costume made up of 4,500 glittering mobile mosaics (as would I!), but not if it requires climbing down from the ceiling on a wire with any sort of confidence and grace. That is just hard. Magic crystal suit or not.
4,500 glitter mosaics! Wow. You want to know some more fun facts about TOTEM? I bet you do! It's Monday after all! Officially* the best day ever to learn about Cirque du Soleil:
There are 18 countries represented by the 53 cast members of TOTEM: Australia, Belarus, Brazil, Canada, Finland, France, Germany, Italy, Japan, Kazakhstan, Moldova, Mongolia, The People's Republic of China, Russian Federation, Spain, Ukraine, The United Kingdom and the United States of America. Like a United Nations for Extremely Flexible Risk Takers.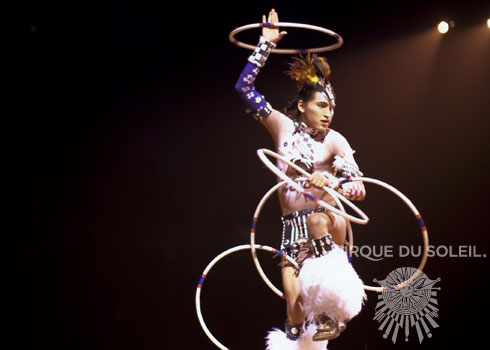 TOTEM represents the circle of life both on and off stage. 23 children are on tour between the ages of 6 months to 17 years old. Currently, the youngest tour member is 6 months and the eldest is 61!
The site takes 8 days to set up but only 3 to take it down. Thanks, gravity.
65 trailers transport 1,200 tons of equipment but not one, single elephant.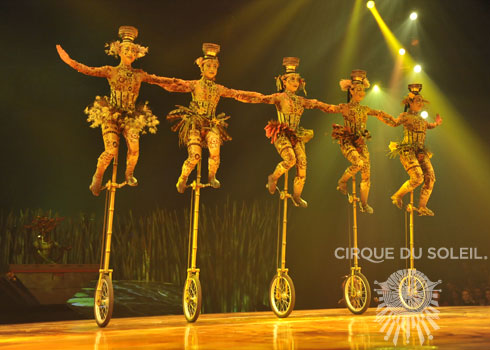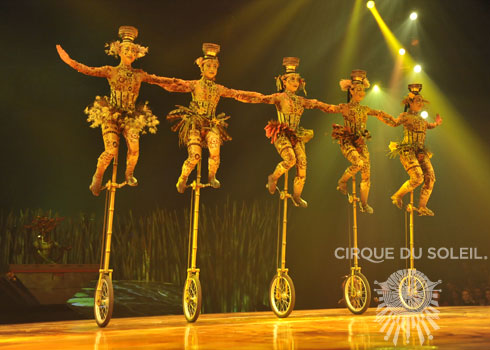 Cirque du Soleil was founded in 1894, with only 73 employees. Today they employ 5,000 people worldwide, including more than 1,300 artists. Artists as talented as my bike club, pictured above.
*Not at all official.
Want to see the Crystal Man in all his 4,500 glittering mobile mosaic splendor? We are giving away 2 tickets to see Cirque du Soleil's TOTEM on May 9, 2012 at the Del Mar Fairgrounds. Just leave a comment on this blog post by 10:00 am P.S.T. on Thursday April 19, 2012 for a chance to win. What's your favorite Cirque du Soleil act?