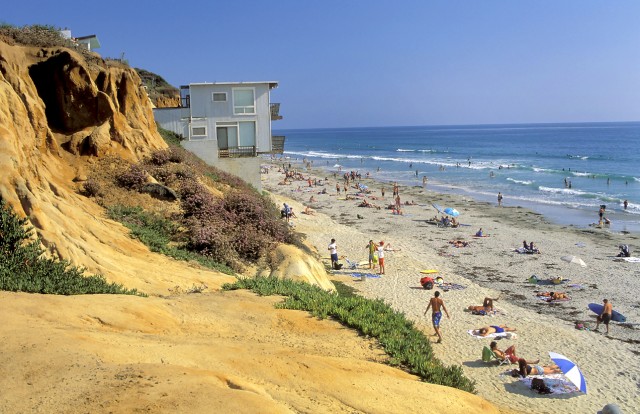 Growing up, my dad always wanted to "take the coast" home. In San Diego local speak, this meant driving along the Highway 101 versus taking the freeway. In fact, when my husband and I moved to Los Angeles for a brief four years, it was this exact stretch of road that had us asking, "Why did we ever move out of San Diego?!" Hence, we moved back. In other words, the coast highway is a gorgeously scenic route that is worth taking a drive. And if you feel like stopping along the way, here are some fun for the whole family stops to check out along Highway 101:
1. Harbor Fish Cafe
Let's start at the north end of the Highway 101 in the town where I grew up, Carlsbad. Enjoy the very walk-friendly sidewalks along the ocean to work up an appetite and fuel your family at Harbor Fish while you catch the sunset. Go for the fish and chips while enjoying surfers and sunset views.
Where: 3179 Carlsbad Blvd, Carlsbad, CA
2. Moonlight Beach
Just as the hot weather hits, the snow cones start calling! Head to the recently renovated snack shack at Moonlight Beach in Encinitas to pick your favorite ice flavors, then enjoy pushing your kids in the swings or watch a volley ball game or two all the while seeing the waves crash along the shore. Locals Hint: Starting in October/November, the sand hills are usually back and San Diego's very own version of "sledding" is to grab an actual snow sled or boogie board and watch your child's delight as they glide down the sandy "mountain."
Where: Encinitas Blvd, straight to the water.
3. Lumber Yard
No visit to San Diego would be complete without souvenirs! Check out this seaside set of shops, including every local's favorite kid's store: Magical Child. Pick up a unique gift that will entertain your child on the trip home, then grab some hot chocolate from Chuao and enjoy it next to the fountain as you toss coins to make their little wishes come true.
Where: 967 S Coast Highway 101, Encinitas, CA
4. The Self Realization Center
First stop at Java Depot for what my kids call "monkey hot chocolate" since they attach a plastic monkey to the cup or grab smoothies from Swami's Café. Once finished, walk over to check out the amazing plants, Koi fish and views from The Self Realization Center. With so much to see and easy to navigate, it is often an afternoon favorite for our family to visit. Also, it's great practice in learning to be quiet as they do ask that you "keep it down."
Where: 939 2nd St, Encinitas, CA
5. Swami's Tide Pools
Just a short distance down the highway from The Self Realization Center is one of the top surf spots. Even better for small kids than watching the waves is searching for sea urchins in one of the many tide pools at low tide.
Where: Coast Highway, Encinitas
6. Bull Taco
True, this is an eating spot on a camping ground, but it's a family favorite for a spectacular sunset dinner. Perched high on a cliff, enjoy 360-degree ocean views, including of La Jolla. Grab an ice cream at the camp store to finish off your delicious tacos and burritos. Local hint: pull onto the campgrounds and let them know you just need temporary parking for dinner. Or park on the coast highway and enjoy a nice walk back to the car with ocean breezes after filling those tummies.
Where: 2050 S Coast Highway 101, Cardiff, CA
7. Fletcher Cove
A gorgeous beach just two blocks in from the 101,  start your day with breakfast at the ocean view restaurant Naked Café, followed by some play time at the Fletcher Cove park play structure, then head down to the beach to collect shells. Just when you start to feel you have sufficiently worn out your wee ones, finish off the day with some lunch at the popular Pizza Port. Oh! And if you have train lovers, be sure to check out the station across the street.
Where: Solana Beach, CA – where Lomas Santa Fe meets the water
8. Torrey Pines
For a great hike in San Diego with kids, check out the easy trails along one of the most beautiful stretches of coastline. Enjoy the wild flowers and the beauty of the Torrey Pine trees. Head to the ocean after to cool off while splashing in the waves.
Where: 12600 N Torrey Pines Rd, La Jolla, Ca
9. Birch Aquarium
It's difficult to match the view from this fun for all ages aquarium atop a bluff overlooking the ocean. Stop by to see the Octopus and "hall of fishes," then head to the hands on exploration area for kids. And when you are ready to have your breath taken away, step outside and enjoy the tide pool display all the while taking in the magnificent views.
Where: Birch Aquarium at Scripps – 2300 Expedition Way, La Jolla, CA
With so much to do and see along one of the world's most scenic highways, your kids are sure to be requesting "let's take the coast" and Highway 101 in no time, too.