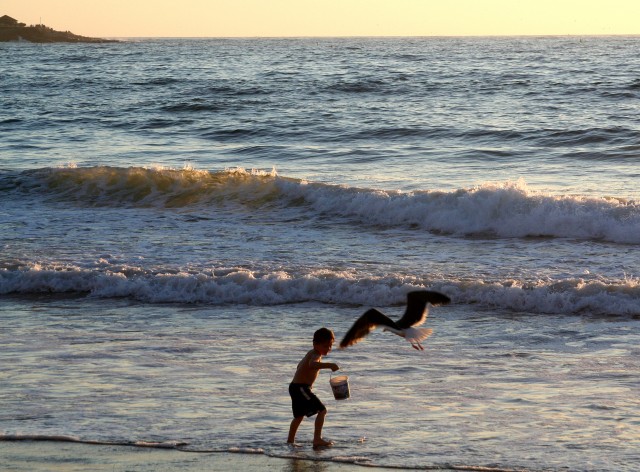 Believe it or not, one of the most amazing destinations to visit with kids actually has so many fun things to do that are free! If you are heading into town and looking for great adventures to do with your family on a budget, check out my favorite free things to do with kids in San Diego!
Beaches
Let's start with the obvious – San Diego has some of the world's most beautiful beaches and, yes, they are free! From swimming in the waves to perfecting your sand castle masterpieces, grab your buckets and shovels and be prepared for you kid's to have so much fun, you may get away with reading a magazine or two!
My favorites for families: Coronado, Moonlight in Encinitas, La Jolla Shores and Law Street in Pacific Beach.
Tide Pools
As the tide retreats, tiny pools fill up and become a natural aquarium for you and your family to enjoy. Find the starfish, sea urchins and guess whether there's a crab in that shell!
My favorites for families: Swamis in Cardiff, Carlsbad off Tamarack, in front of the Power Plant and the La Jolla Cove.
> Find out more about San Diego's Tide Pools
San Diego Libraries
Just as you find yourself needing a break from the sun, enter into one of the many San Diego libraries for some free fun. The new central library in San Diego's East Village offers plenty of different open spaces for kids and teens to read and play.
My favorite for families: Encinitas library with its ocean views.
Free Museum Days
Each October, kids generally receive free admission with a paid adult at over 40 museums!
Also, check with each individual museum as certain ones do offer a free night. For example, every third Thursday, the La Jolla Modern Art museum offers free admission for everyone!
My favorites for families: Birch Aquarium at Scripps, Reuben H. Fleet Science Center, San Diego Botanic Garden and Museum of Making Music.
Seaport Village
From street performers to flying kites, pack your lunches and head for some fun along the bay at San Diego's Seaport Village.
My favorite: Walking along the water and watching the boats.
Balboa Park
Catch a free concert in the outdoor pavilion after counting the lilies in the pond! Walk along the historic Cabrillo Bridge and enjoy the multiple flower gardens throughout the park.
My favorite: Japanese Friendship Garden
> Find out more about Balboa Park
Hiking
With so many San Diego kid-friendly hikes to choose from, enjoy the amazing weather while taking in breath-taking views…and for free!
My favorite: Torrey Pines
What's your favorite free things to do with kids in San Diego? Let us know in the comments below or join in the conversation on Twitter, Facebook or Google+.