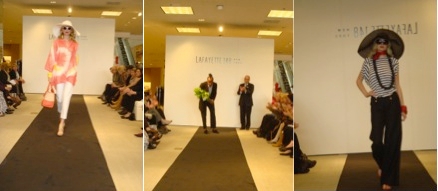 I recently had the pleasure to sit down and interview the oh-so-talented, Edward Wilkerson, Design Director of the brand, Lafayette 148. The interview took place after the fabulous showing of his 2012 Spring Collection. We discussed the fashions of San Diego as well as some of his favorite spots in San Diego to visit. The 2012 Spring Collection was featured at Neiman Marcus, located at Fashion Valley Shopping Center, and definitely put me in pure vacation-mode!
Question: Having 1/3 of all visitors to San Diego include shopping on their activity list , how do you see San Diego with regards to accessibility to fashion choices?
Answer: Very accessible and adaptable to a realistic "lifestyle-wear." Women evolve with fashion constantly. The styles of San Diego evoke going from "day to evening." I like to visit at least once a year to listen to the customers and vendors.
How would you define San Diego's style?
Casual, yet elegant and sophisticated.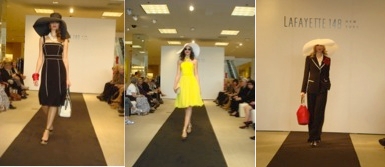 How do you use social media as Design Director?
My staff uses it quite a bit to help promote the latest trends and styles. For me, personally, I am more of a tactile person and sketcher. I constantly carry with me two sketch books while I travel to document my inspirations.
What are you most inspired by?
I travel around the world for my design inspiration. I am also inspired by my customers. I take on a true personal approach to customer service. If a customer wants a sleeve longer or maybe a different color in one of my designs I make sure it happens for them.
What is your favorite thing to do while visiting San Diego? Place to stay?
During my week's visit I loved riding bikes all around Coronado Island and made sure to visit the Hotel del Coronado. I thoroughly enjoyed having lunch at C Level Restaurant located on Harbor Island and having breakfast while I sketched at the rooftop restaurant of the Andaz San Diego Hotel located in the Gaslamp Quarter of downtown. Spending time in Little Italy was also a treat!
Best advice ever given to you?
Always put your best foot forward.
What is your personal motto?
Live every day to its fullest, make every moment count.
Favorite drink?
A concoction that Rebecca, a true mixologist, created at the bar at the Andaz San Diego Hotel!
Define the woman who wears Lafayette 148?
Someone similar to the San Diego woman; casual and elegant, showcasing wearable fashion. The innovative creations can take you from the boardroom to an evening out to a weekend get-a-way.
NOTE: Lafayette 148 is sold at Neiman Marcus and Nordstrom.