Even though it feels like Summer all year round in San Diego, the 2012 season officially begins on Wednesday, June 20.
To prepare for the coming of days at the beach, twilight golfing, concerts by the water, cold craft beer and sunshine; Maren and I are headed out along the coast of San Diego to experience and share with you the ultimate first day of summer.
Throughout the day, the two of us will be posting pictures, trivia and giveaways on our social media channels. Make sure to follow @visitsandiego and the hashtag #sd1stday on Twitter. Like us on Facebook and check our San Diego page during the day to see what we have been up to!
Celebrate Summer With 60 Extra Minutes of Happy Hour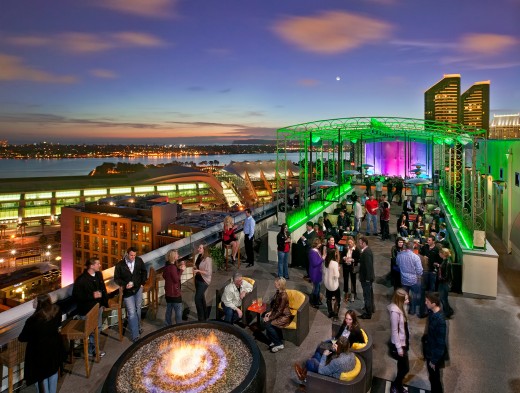 To cap off the ultimate summer day in San Diego, join us from 4:00 – 7:00 pm (the normal Happy Hour starts at 5:00 pm) at Altitude Sky Lounge atop the San Diego Marriott Gaslamp Quarter for beautiful views, good friends and great Happy Hour Specials.
Peruse the delicious Happy Hour drink list below:
Mojito – Rum, muddled fresh mint & limes, topped with soda water
Margarita – Tequila, Triple Sec, lime juice & sweet and sour
Razztini – raspberry vodka, chambord, garnish with fresh raspberries
Watermelon Martini – citrus vodka, watermelon pucker, triple sec, splash OJ & 7up
Orange Splash – citurs vodka, citronage/triple sec, splash lime juice, fill OJ on the rocks