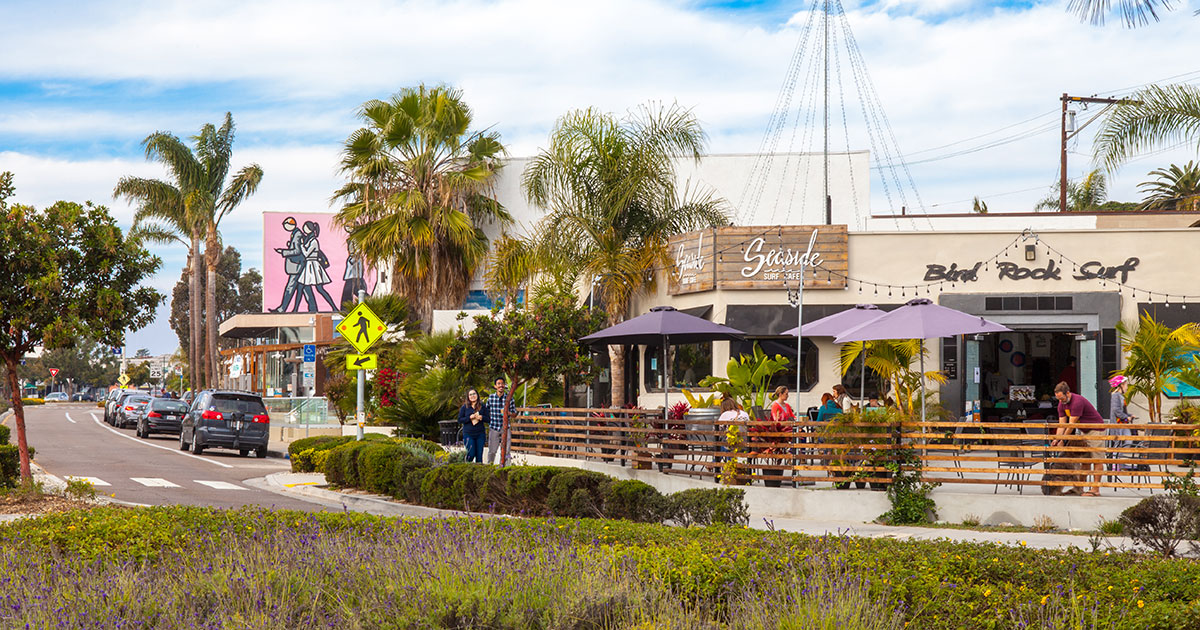 Nestled along San Diego's Pacific Coast is Bird Rock, a quirky but laid-back neighborhood known for beautiful ocean views, independent boutiques, and cozy cafes. Visitors and locals can easily stroll from one end of La Jolla Boulevard (Bird Rock's main drag) to the other, making it the perfect destination for out-of-towners to explore unique mom-and-pop shops. No matter when you decide to visit Bird Rock, its casual culture mixed with upscale atmosphere means you should pack both your swim trunks and a sport coat or heels.
Eating & Drinking
No visit to Bird Rock is complete without a pilgrimage to Bird Rock Coffee Roasters, one of the most highly acclaimed roasters in the country. Grab a pastry and pour over before snagging a spot on one of the open window benches—there isn't a better spot to people watch. For lunch, try Cafe Vahik, Seaside Surf Cafe, Don Bravo Grill & Cantina, or Wheat & Water for a wood-fired pizza and pint of local craft beer.
For something a little stronger, head to Beaumont's. This eclectic eatery serves food all day, but it's the live music and craft cocktails that attract the crowds. Nearby Pacific Beach caters to those who seek a late-night social scene, as most of Bird Rock beds down by midnight. Ocean views are best atop the new Waterbar restaurant, but tiki cocktail fans will go gaga for The Grass Skirt.
Outdoor Activities
Biking is a popular Bird Rock pastime. Hop on the local bike path for an easy ride through the heart of the 'hood. For a challenge, surfing at Windansea Beach is a picturesque but advanced surf spot. Use caution – the offshore reefs make for good waves, but bad wipeouts. When in doubt, just bring a camera to document the gorgeous scenery.
Another nearby Instagram gem is La Jolla Cove. This protected nook is home to herds of seals, pelicans, and other sea life. Get a closer look at the local marine life in a kayak or paddleboard (rentals are available).
La Jolla Culture
Cute shops line the length of La Jolla Boulevard. Mimi & Red, a local boutique specializing in millennial women's fashion, is one of the most popular stops in Bird Rock. Just down the street, Bird Rock Surf Shop caters to the surfing crowd. There are also plenty of art galleries featuring the work of local and national artists. After you've had your fill of shopping, take a load off at one of La Jolla's numerous spas like The Bird Rock Massage Studio, Birdie Day Spa, Lucky Ocean Spa, or Decorum Lash Bar & Spa. From facials to full body massages, there's something relaxing for everyone.