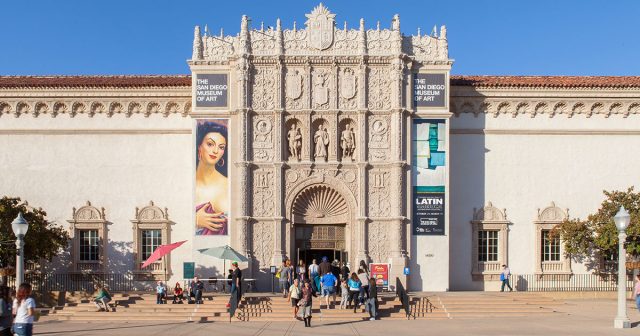 From Ancient India to a Mythical California, here are 8 art shows in San Diego you don't want to miss in 2018.
1. Epic Tales from Ancient India
The flagship of Balboa Park's world-class collection of museums is the San Diego Museum of Art, located on the scenic, pedestrian Plaza de Panama in the heart of the park. In 2018, SDMA debuts a major exhibition of more than 90 works of art chosen from its own world-renowned Edwin Binney 3rd Collection. Assembled over a lifetime by the Crayola heir and acquired by the museum in 1990, it's one of the largest and finest private collections of South Asian paintings outside of India. Epic Tales from Ancient India explores the classical literatures of the Indian subcontinent through the stories told in its paintings. You'll see the stories of the Bhagavata Purana, ancient tales of Hindu gods Vishnu and Rama; stories of love and music from the Ragamala; and works of Persian literature, including the epic Shahnama.
Where: 1450 El Prado
When: Opening June 9, 2018
> Find out more about the San Diego Museum of Art
2. Ryan McGinness: Ocular Evidence
Gallery owner Mark Quint has a stellar reputation in San Diego for spotting new and up-and-coming talent, having staged exhibitions in gallery spaces all over the city for more than 30 years. Ocular Evidence is artist Ryan McGinness's fifth solo exhibition with the gallery, featuring new paintings and cyanotypes, large and small works, both colorful and monochromatic, that fill the space and show the artist's range within his signature graphic style. McGinness's work has been shown in many national and international exhibitions and is included in numerous public collections. He also recently opened a public art installation and skate park in Detroit with pro skateboarder Tony Hawk. The artist happened upon the term "ocular evidence" while doing research for a large-scale public art installation intended for the San Ysidro border crossing. This exhibition at Quint's Bay Ho gallery references different bodies of work McGinness has been exploring in recent years – from the self-reflective Studio Views to the iconic Signals, Skateboards, Mindscapes, and Black Holes.
Where: 5171 H Santa Fe St, San Diego, CA 92109
When: Through February 3, 2018
> Find out more about the Quint Gallery
3. Niki de Saint Phalle: Mythical California
Tucked away in the backcountry of Escondido is a park that's great for hiking and hides an added surprise. Internationally known French artist Niki de Saint Phalle (1930–2002), who moved to San Diego in 1994, is known for her large, colorful, whimsical and powerful works of art, many of which have found homes around her adopted city. Inspired by myths and legends of California, Queen Califia's Magical Circle is the only American sculpture garden and the last major international project Saint Phalle created. Located in Kit Carson Park, it consists of nine large-scale sculptures within a circular "snake wall" and maze entryway, with sculpturally integrated bench seating and native shrubs and trees planted all around. All of it is covered in the brilliant, unique mosaic ornamentation that was Saint Phalle's trademark. The impact of walking into the vibrant Magical Circle in the middle of the quiet rural park defies description. In 2018, the Museum at the California Center for the Arts, Escondido celebrates the 15-year anniversary of the sculpture garden's construction with an exhibition of the artist's maquettes, models, sculptures, photographs, furniture, blueprints, and video. Start by taking in the exhibition, then grab a picnic lunch and head out to experience the Magical Circle for yourself.
Where: 340 N Escondido Blvd, Escondido, CA 92025
When: January 13 – March 4, 2018
> Find out more about the California Center for the Arts, Escondido
4. Art of the Americas
Last year, the Getty Center in Los Angeles launched Pacific Standard Time: LA/LA, a far-reaching and ambitious exploration of Latin American and Latino art at more than 70 cultural institutions across Southern California. Art of the Americas, at SDMA's neighboring Mingei International Museum, is one of the few exhibitions of ancient Latin American art in the program. The Mingei is home to eclectic folk art, crafts, and design from all eras and cultures of the world, and objects from the ancient cultures of Mexico and Central and South America are well-represented in its collection. Art of the Americas showcases a wide selection of pre-Columbian art that straddles cultural boundaries—from the Olmec and Maya of Mexico to the Moche civilization in Peru—as well as many ancient traditions and cultures, including the indigenous Teuchitlán, Zoque, and Huastec societies of Mexico. The objects range from those meant for ritual and ceremonial use to household objects, plus a rare collection of Maya textile fragments and ancient beads.
Where: 1439 El Prado, San Diego, CA 92101
When: Through February 18, 2018
> Find out more about the Mingei International Museum
5. Seeing is Believing / A Group Show
One of the coolest downtown spaces in San Diego is Sparks Gallery, housed in the historic Sterling Hardware Building, which received Save Our Heritage Organisation's 2015 Adaptive Reuse Award. Sparks is known for thoughtfully curated exhibits of contemporary artwork by San Diegan and Southern Californian artists as well as being an ultra-hip event space. Twenty-one of these artists will be showing their work in Seeing is Believing, a giant group show that takes a trip into the unconscious mind as art transforms the everyday into thought-provoking explorations of the body, relationships, emotion, form, and inanimate objects. Media include photography, sculpture, painting, and illustration. Check the gallery's website for the full list of artists represented.
Where: 530 Sixth Ave, San Diego, CA 92101
When: January 6–April 8, 2018
> Find out more about Sparks Gallery
6. Erica Deeman & Moment in Time: A Collection of Photographs
The Museum of Photographic Arts is consistently one of San Diego's most interesting art museums, presenting exhibitions and special events such as film festival screenings in its lovely jewel-box theatre. This exhibition will display two series by contemporary artist Erica Deeman, who investigates the history of race, ethnography, and portraiture through large-scale photographs of people of color. Concurrently, Moment in Time: A Collection of Photographs features a selection of works from Beaumont and Nancy Newhall's stunning late 1960s collection. Spanning the history of photography, this exhibition presents the art form's greatest hits, including boldface names like Henri Cartier-Bresson, Imogen Cunningham, Robert Frank, Dorothea Lange, and many more.
Where: 1649 El Prado, San Diego, CA 92101
When: Both open April 28, 2018
> Find out more about the Museum of Photographic Arts
7. Memories of Underdevelopment: Art and the Decolonial Turn in Latin America, 1960-1985
The reliably cutting-edge Museum of Contemporary Art's La Jolla home is currently closed for a massive renovation and expansion. Fortunately, its downtown annex, the Jacobs Building, is one of the most interesting venues for art in the city. Formerly the Santa Fe Depot baggage building, built in 1915/16, it features airy galleries and open spaces perfect for large-scale installations and site-specific works, including one by artist Richard Serra. (And since it's still part of Santa Fe Depot, it can literally be your first stop if you're arriving in San Diego by train.) In collaboration with Museo Jumex in Mexico City and the Museo de Arte de Lima, Peru, this exhibition looks at how Latin American artists from the 1960s to the 1980s responded to modernization after World War II, especially in Argentina, Brazil, Mexico, and Venezuela. Memories of Underdevelopment is the first significant survey exhibition of these crucial decades and highlights the work not only of well-known artists such as Hélio Oiticica and Lygia Pape, but also lesser-known artists from Colombia, Peru, Chile, and Uruguay.
Where: 1001 Kettner Blvd, San Diego, CA 92101
When: Through February 4, 2018
> Find out more about the Museum of Contemporary Art, San Diego (Downtown)
8. Artist-in-Residence Francis Upritchard
Lux Art Institute in Encinitas does art a little differently. With a goal of making art more accessible and personally meaningful, it shows visitors the artistic process firsthand, allowing them to observe internationally recognized artists in a working studio environment. This year Lux has scored a coup with Artist-in-Residence Francis Upritchard, whose bronze-and-rubber figures created a sensation at the 2017 Venice Biennale. The New Zealander artist, who has shown all over the world, should be particularly interesting to watch in the studio, as the nature of the Brazilian balata rubber requires her to work quickly and intuitively: rough and leathery at room temperature, it becomes malleable for about a half hour once immersed in hot water. At the beginning of her residency, Upritchard will first create multiple watercolor paintings inspired by the Lux environment, which will serve as drawings to work from while she makes her figures. The residency will include an opening and an artist talk.
Where: 1550 South El Camino Real, Encinitas, CA 92024
When:
In studio: January 27–February 24, 2018
On exhibit: January 27–March 24, 2018
> Find out more about the Lux Art Institute